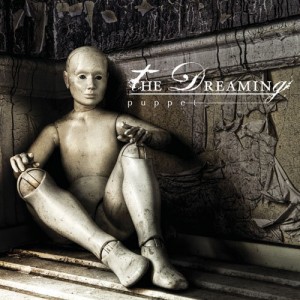 LA rockers, The Dreaming, have released a wallop of a sophomore album in Puppet.  Building off of the hard hitting introduction in their previous album, Etched in Blood, and adding a significant (and welcome) level of electronic flair; The Dreaming has managed to release one of the greatest albums of 2011.
Puppet has seen its fair share of hands touching this album.  The line up for the band has been in a state of constant flux for the better part of three years and several roadblocks were thrown in the way of the album's release.  As such, there's a sense of urgency to the entire pace of the record.  Even the more somber themed tracks ("Breathing," "There will be Blood," and "Hole") have a pedal to the metal pace to them.  Puppet is devoid of filler as each track has its own, unique hook and each track packs universal, emotional turmoil into neat three-and-a-half minute packages.
It's tough to pick some album highlights with a completely solid record, but the band's cover of Depeche Mode's "It's no Good" is fantastic, giving the track some gravitas while maintaining the original electronic swagger.  Lead single, "Every Trace" is catchy as all hell, and also the world's greatest break-up track.
Get your ears wrapped around Puppet and support this supremely hardworking group.  Even if you're not a fan of electronically driven
tunes, there's enough rock hooks to entice anyone.
If you liked this, then you'll love:
The Playlist – Big Black Delta Playlist
Album Review – Repeater – We Walk from Safety
Album Review – The Rope – S/T EP
ETS Show-The Wellspring {live}