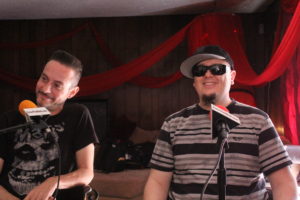 It's an All New Experience! We're playing music submissions from you! We also are talking with Director/ Zombie Dave Reda! And He's brought along Peter Hollywood from the band MAL! We're talking about his latest project "Rotting Love" and discussing Horror Movies and of course, sharing experiences!
Visit Zombie Dave Aka Dave Reda on his Website Check Him Out On Facebook, Visit The YouTube  Or Visit
His Company Elf Twin Films!
Thanks To Peter Hollywood from MAL for stopping by! Checkout MAL on their Website, Facebook, Myspace, Twitter and Youtube. Get there album on BandCamp, Itunes or Amazon!
Podcast: Play in new window | Download
Music Submission
F***ing Off Today by Tree Machines
While it may be considered risky for a new band to title its very first single "F***ing Off Today", this song couldn't exist with any other name. The tune is an ode to apathy of epic proportions, lyrically capturing the idea of not caring in a way no artist has before.
https://www.treemachinesmusic.com/
————
Penny Mob
21st Century Kids
We're big fans of you guys and would love if you could spare a minute to check out our new music "21st Century Kids" in consideration for your show.
The song is inspired by the modern world's relationship with technology and social media… hope you dig it.
https://www.instagram.com/pennymobband
———
Jesse Jo Stark
Dandelion
"Dandelion", from Los Angeles rock goddess Jesse Jo Stark ?? We are also announcing two amazing tours: A USA tour with The Vaccines, and a UK tour with Sunflower Bean
https://www.instagram.com/jessejostark/
——-
Like Tortoise and The Hare Experience On FACEBOOK BY CLICKING HERE!
Visit Enter The Shell on Facebook, Twitter, YouTube and write us a review on Itunes.