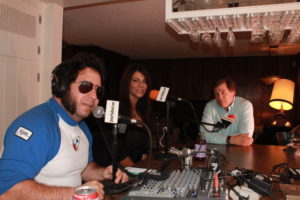 In this episode of the Tortoise & The Hare Experience, we're going to experience actor "Michael Paré"!  Paré was working as a chef in New York City when an agent, convinced him to try acting. Paré's first starring role was as Tony Villcana on the television series The Greatest American Hero (1981). His well-known film roles were as Eddie Wilson in Eddie and the Cruisers (1983) and its sequel Eddie and the Cruisers II: Eddie Lives! (1989), as well as Streets of Fire (1984) and The Philadelphia Experiment (1984). Other films include Moon 44 (1990), Village of the Damned (1995), Bad Moon (1996), Hope Floats (1998) and The Virgin Suicides (1999).
Checkout Michael Paré on his IMDB, and Instagram.
Podcast: Play in new window | Download
Music Submission
Sheldon & Cunnane – Big Brother
After performing over 230 concerts together throughout 2014, Sheldon & Cunnane are rapidly becoming a fixture in the Americana/ Roots/ Rock scene. A handful of tours in Florida in combination with an endless southern California tour has helped spread their brand of groove and harmony on both coasts.
https://www.facebook.com/sheldonandcunnane/
---
Pure13- Blue
_________________
Ethos – Wood for fire
Shade & Soil by Ethos, which will be released June 20th, 2017, for your consideration. Known for a fusion of heavy rock riffs, classical piano, syncopated rhythms, and melodic vocals, Ethos (Rome, GA) exhibits a technically rich yet accessible rock sound with roots in Alternative rock, Progressive rock, and Post-metal.
———–
Like Tortoise and The Hare Experience On FACEBOOK BY CLICKING HERE!
Visit Enter The Shell on Facebook, Twitter, YouTube and write us a review on Itunes.