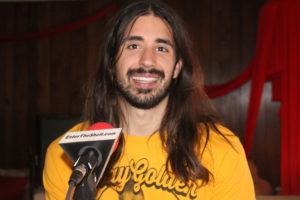 In this episode of the Tortoise & The Hare Experience, we're talking with An0maly!!! In 2015, An0maly release a poem "It's Not All About Money" which is nearing 1,000,000 video views & has been shared 12,000+ times. Later that year he released "Bernie Sanders Trap Anthem" which exploded on the internet accumulating more than 20,000,000 plays across Youtube, Soundcloud, Vine, Facebook & Apple Music. The song featured elements of trap music, politics, lyrical hip-hop & comedy.
An0maly currently lives in Los Angeles, California & creates content independently with no manager, booking agent or label. He has a worldwide fanbase & has been reaching 5-15 million people weekly across all social media. Every second someone watches an An0maly video or listens to an An0maly song somewhere in the world.
Connect with An0maly on his Website, Facebook & YouTube!
Podcast: Play in new window | Download
Like Tortoise and The Hare Experience On FACEBOOK BY CLICKING HERE!
Visit Enter The Shell on Facebook, Twitter, YouTube and write us a review on Itunes.