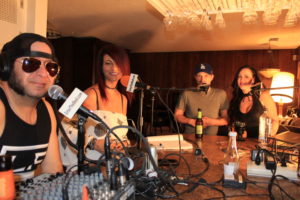 In this episode of the Tortoise & The Hare Experience, we're going through more submissions that were sent to us! And we brought along some guest as well! We're talking Acting with some actors as well as playing some great music! Tune In!
Check out Sheri Davis on her Website, Facebook, Instagram, IMDB, & Twitter!
Check out James Preston on his IMDB, Facebook, Instagram & Twitter!

Podcast: Play in new window | Download
Music Submission
Will Spitwell – Cowgirl (ft Speek Eazy)
Description:
Groovy country guitars over a hard-hitting beat.
————
Joe Atman
Piano guy.
Debut Album "it took the village"
Moon Sabled Nights
http://joeatman.sunsetrecordings.com
———
Mushy Callahan- "Outta My Hands".
I wanted to share the new single from Toronto-based group, Mushy Callahan, titled "Outta My Hands". This release marks their second single from 2017, with a full EP set to be released in early spring.
About Mushy Callahan:
Mushy Callahan is an indie, alternative rock band consisting of four brothers Noah, Joel, Jake and Lucas. Hailing from Northern Alberta, the Toronto-based group has been writing and performing together since 2013,
More info at www.mushycallahan.com
———–
We're an independent songwriting duo under the moniker, Vicious Kicks. Our first EP entitled "Giant Leap" will be out on 3.17.17, For more info: https://www.facebook.com/itsviciouskicks/
Like Tortoise and The Hare Experience On FACEBOOK BY CLICKING HERE!
Visit Enter The Shell on Facebook, Twitter, YouTube and write us a review on Itunes.