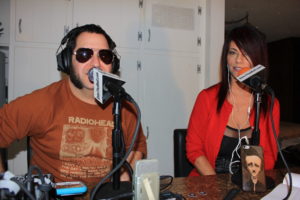 This week we take a look at what music has been sent to us! We share some experiences and Brian Crow stops in to join the fun in this all new Experience!
Podcast: Play in new window | Download
Featured Artists:
1."Funky Ting Dem"– Jaewar & Vibe Riot is an East Coast Indie band founded by frontman Jaewar, Eric Smith (guitars), Dan Cotting (bass), and Colin Kovacs (drums) in 2013. If you fused the funky groovy kaleidoscope attitudes, charisma, and soundscapes of Prince, Bob Marley, A Tribe Called Quest, and The Roots, you just might recreate something like Jaewar & Vibe Riot. Visit There Website : https://viberiot.com
2. "Japanese Auto Service"– The Landmarks are an Indie Pop Psych-Rock group from Ann Arbor. Comprised of sweet soulful melodies, soaring synths, colorful bass lines, driving rhythm, and screaming guitar tones, occasionally accompanied and reigned via soothing string arrangements. Official Website: thelandmarksband.com
3. "Tired Of This Heart Ache"– Carol Martini http://www.carolmartini.net/
4. "Love Asked Too Much" -Carol MartiniA songwriter since age eleven, having given up the violin for the more "songwriter friendly" acoustic guitar, she has already issued four independent Cds. http://www.carolmartini.net/
Like Tortoise and The Hare Experience On FACEBOOK BY CLICKING HERE!
Visit Enter The Shell on Facebook, Twitter, YouTube and write us a review on Itunes.