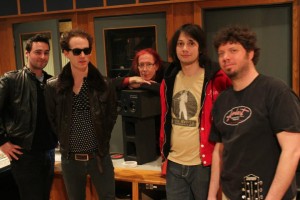 Growing from an indie pop duo to a six piece band, The Demos are ready to release their latest full-length Paramount Clouds leading with "Primitive" which is filled with indie pop melodies matching seamlessly with their Beach Boy influenced harmonies that make it the perfect summer song.
After releasing their 2011 album Lovely to critical acclaim, The Demos immediately returned to the studio to develop their next LP Paramount Clouds through Young Lion of the West Recording Company. This time around, the once duo has now grown into a full six piece band, including Lovely producer Mike James, and musicians Caela Moore, Adam Ford, and Anna Dana.
The Primitive Single is available now, and Paramount Clouds will be released in Fall 2012.
Visit The Demo's on their Website, YouTube, Facebook and Twitter!
Podcast: Play in new window | Download
Visit Enter The Shell on Facebook, Twitter, YouTube and write us a review on Itunes.
Enjoy and if you can, let me know what you think! Turrtle@EnterTheShell.com
Got Stitcher? We're on it! So get it! Stitcher is a award-winning provider of news and talk radio for your mobile phone, Stitcher is smart radio for your smart phone
Get a glimpse of what its like to Enter The Shell, by checking out the performances on the ETS Show by Clicking Here!
Here are some other ETS you might be into: