The Decemberists
The King is Dead
I could begin this review by previewing tracks from the previous five Decemberists albums, and pretend to put together a comparison of how their sound is changing into something different. I would compare it to their last album, Hazards of Love, and tell of how that was a concept album, and how the newest release, the King is Dead, is completely different. I'm not going to do that. The truth is, I have no idea who the hell the Decemberists are, or why I should have heard of them by now. I am a complete "Decemberists virgin" if you will, hearing the album with fresh ears.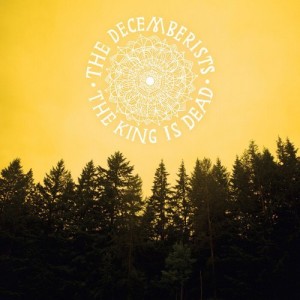 The Decemberists' latest release, the King is Dead, is a folk-ish album, that borders on country-rock at times. First thoughts include, this is great traveling music as long as you aren't sleepy, because it honestly does get somewhat lazy and boring every now and then. At times I felt as if the Decemberists could have re-titled the album "music for sailing in the late 1800's," thanks to a disturbing amount of accordion. Even with R.E.M. guitarist Peter Buck featured on several tracks, the guitar was somewhat generic acoustic medleys that never really take off into anything truly interesting. It certainly has a Pacific Northwest feel, streaming from their Portland, Oregon home base, perfect for background music while enjoying lattes on a rainy day with friends at the local Stumptown coffee house. (Not that its what all of us North-westerners do…but, it could happen.)
Notable tracks include, Calamity Song, Rox in the Box, January Hymn, Down by the Water, and This is why we Fight. The first track, Don't Carry it All, starts to sound so much like Tom Petty's "You Don't Know How It Feels" for the first 30 seconds, I assumed it to be a cover upon initial listening, I wish it had been. Another gripe is the over-use of harmonica, I know we have to give everyone in the band a job, but someone pass this guy a tambourine. Featuring Gillian Welch, Down by the Water, has an amazing Stevie Nicks vibe I find haunting. At just over 40 minutes, the album could be considered short, but highly worth it.
In the end, I would be surprised if this album doesn't end up on someone's top 10 list for 2011. Although I have a hard time explaining why, I found the Decemberists to be a delight that is not to be missed.
Matt's score: B+
—————————————
Hungry for more? Check out this super-cool stuff from Enter the Shell:
Album Review: Brandon Flowers
Enter the Shell Show: Shunda K & Aurelio
Artist of the week: Ian Axel
Album Review: Matt and Kim
Weekly Album Release Party: Jan. 25, 2011