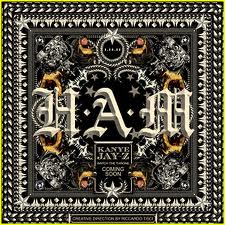 God bless pork. The musical aspirations of 2011 have so far started off with a thud; a splattery, kosher, slightly raw thud. Rap generals Kanye West and Jay Z are paling up for Watch The Throne, a collaboration album set to release in a month. Packing a double dose of potency, the album has been perceived as one of 2011's most anticipated albums as well as one of the most anticipated collaboration albums of all time. Earlier this week on January 11th, 2011 (1.11.11), "H.A.M." the record's first single was released in dramatic fashion.
                An acronym for hard-as-a-motherfucker, "H.A.M." isn't a particularly mind blowing experience but it lives up to its title. West and Hove are on the same rapping prestige that boasted legendary lyricists like Andre 3000 and Nas. But where their careers have faded in recent years for whatever reasons, they former have been able to thrive by attaching themselves to their swagger (rightfully so; their tunes make for practical background music when breaking a sweat in the gym).
                "H.A.M." has the same ingredients as mostly all of the West beats. A wild-yet-contained percussion sequence accompanied by witty, outlandish lyrics set to an over-the-top, galactic sample. Business is conducted as usual, the two feel the need to defend their reps and do so in fine fashion. West raps about how life is a bitch who sucks his dick while Jay Z raps about swimming with great whites and hanging with vultures.  
                It amazes me that the two can stomach each other's egos enough to share equal time on one single album. I guess that on another level that can be viewed as sort of regal but on a completely different level it can be viewed as just plain smart (two rappers, twice the money, twice the H.A.M.).  I honestly don't see it working. There are tons of songs already out that feature Jay Z on a West track and vice versa. Only about 5 percent of those tracks really go "H.A.M." The rest feature subpar and very poppy-sounding attempts, almost always on the featured end.  We have about a month till the album releases so let's see if Watch The Throne and it's "H.A.M." can beef up until then.
If you're into this blog, here are some other pages on EnterTheShell.com that you may enjoy!:
Album Review: TI's No Mercy
Free Song Download: Class Actress – Careful What You Say
Enter The Shell Show: Pithy Sweet Live
Album Review: Cee Lo Green's "The Lady Killer"
Sunday's Blessings: The Smiths