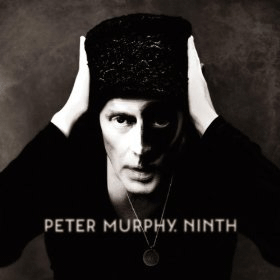 The "Godfather of Goth," Peter Murphy, has returned with his ninth solo album, aptly titled Ninth.
Unlike previous releases like Cascade or Unshattered that sported layered, studio heavy compositions, Ninth has a decidedly raw, live feel that rumbles well in a world of over-produced garbage.
Murphy's trademark vocals and cerebral lyrics are readily available for the longtime fans to cling to, while the urgent crunch of "Peace to Each," "Memory Go," "The Prince & Old Lady Shade" and "Slowdown" will attract new listeners to the sub-genre Murphy has helped define (and true aficionados
will notice the sonic similarities to the Sisters of Mercy's "Lucretia my Reflection" with the chord structure and pace of "Seesaw Sway" ).
The shadow-cloaked standouts include album opener, "Velocity Bird," the propulsive "Memory Go" and the epic ballad "Crème de la Crème."  Old fans and new will appreciate the straight-forward (as "straight-forward" as you can get when you're Murphy) nature of Ninth as it shows up, hangs out, then politely leaves—never once providing time for you to wonder when it will go home.
If you liked this, then you'll love:
Repeater-We Walk from Safety
Digg – Episode 3
Enter The Shell Show-El Camino Real (Live)