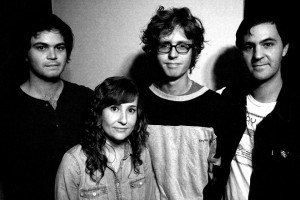 The new EP Alien Beach Party, by LA-based experimental indie-pop quartet FIM, is like a puzzle. Side A is beguiling, noisy and manic, recalling the early freakouts of Butthole Surfers, Ween and Frank Zappa. "Love Die" the last track on Side A, signals a shift to the more chill, indie pop side of FIM. The track has a pulsing Casio beat (think Eddy Grant's 80s classic "Electric Avenue") and then enters a lounge vibe, like the calm after the storm, or the party after the apocalypse. This is not Serge Gainsbourg, Stereolab lounge chill. This is more like the downer after the acid shifts gears, and the night takes on a slower vibe. By retaining that Ariel Pink, lo-fi mastery, "Love Die" serves as the perfect transition to the B-Side of the EP.
Visit FIM on their Website, Facebook, BandCamp, YouTube and Twitter!
Visit Enter The Shell on Facebook, Twitter, YouTube and write us a review on Itunes.
Enjoy and if you can, let me know what you think! Turrtle [at] EnterTheShell.com
To Save Song "Right Click and Save As"
Podcast: Play in new window | Download
Got Stitcher? We're on it! So get it! Stitcher is a award-winning provider of news and talk radio for your mobile phone, Stitcher is smart radio for your smart phone
Get a glimpse of what its like to Enter The Shell, by checking out the performances on the ETS Show by Clicking Here!
Here are some other ETS you might be into: