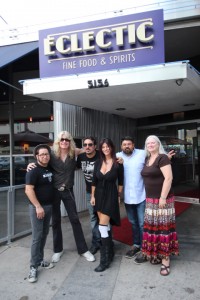 Its an all new experience! We Recording live from Eclectic "Fine Food & Spirits" We're talking with Derek Sherinian, Chas West, Brad Diaz and author DC Doyel! We Want YOU… To Experience the Experience!
Thanks to Eclectic for letting us film and record! Visit them and for more info log on to their Website. Socialize with Eclectic on their Facebook, Instagram and Twitter!

Visit Chas West his Facebook, and Twitter!
Also do you need Clean Water? Visit our friends at Velaque and thanks to Brad for sitting in and letting us try out their clean water system! Checkout Their Website!
Please visit Derek Sherinian on his Website and follow him on Twitter!
Checkout DC Doyle's book "Greater Than The Sum Total" get it on Amazon!
Like Tortoise and The Hare Experience On FACEBOOK BY CLICKING HERE!
Thanks Again to Noho2 Studio for providing the space!
To Save Podcast "Right Click and Save As"
Podcast: Play in new window | Download
Here's The Music we played:
1.  Derek Sherinian- "Man With No Name"
2.  Derek Sherinian- "Evel Keneive"
3.  Derek Sherinian- "Axis of Evil"
4.  Tribe of Gypsies- "Halos"
5. Derek Sherinian-"Day of the Dead"
6. – "AIN'T GONNA DROWN"
7. 3 Legged Dogg- "Frozen Summer"
Visit Enter The Shell on Facebook, Twitter, YouTube and write us a review on Itunes.
Enjoy and if you can, let me know what you think! Turrtle@EnterTheShell.com
Got Stitcher? We're on it! So get it! Stitcher is a award-winning provider of news and talk radio for your mobile phone, Stitcher is smart radio for your smart phone
Get a glimpse of what its like to Enter The Shell, by checking out the performances on the ETS Show by Clicking Here!
Here are some other ETS you might be into: