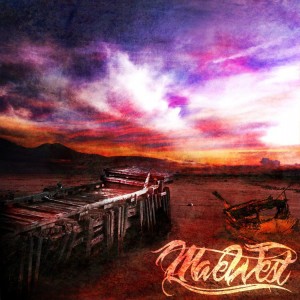 So Cal neck breakers, Mae West, pound out vicious metalcore on their self-titled, debut EP.   Complete with nuclear-assault heavy breakdowns, spider-web riffing, vicious-to-hooky vocals and unrelenting drum work; Mae West will make an instant staple to any headbanger's collection.
The one thing that sets the band apart from a genre dominated by the ultra-aggressive stylings of As I Lay Dying, All That Remains and It Dies Today is frontman Brian Torsney's ability to have a near-pop vocal hook with his clean singing.  Sure, other vocalists can "clean" sing as well (Phil Labonte of All That Remains sticks out as the best of the aforementioned three) but none of them have the same affect on the ears as Torsney's work does. His considerably brighter voice is more than a break from the monotone growl; it draws the listener deeper into the music, which is no small feat.
The rest of the band is rounded out by axemen Dino Delgado and Derek Ronningen, bassist Walter Croft and pummeling drummer Max Sabate.    Although the music they collectively make is on the supremely serious side, the titles of their songs are anything but.  The crushing album opener is comically titled "Brazillionaire."  The metal radio oriented "Even Higher" was named after the songwriting process of the guitar riff, not the subject matter.  I'm really not sure I want to know what "Phalewent" and "Whoopez" are based on, but I do know that the punishing "Mud Bananas" is—amazingly –not derived from the gutter.
Simply put, Mae West is entirely too good to remain unknown in the underground metal scene.  Hit up the band's Bandcamp page and download a copy of their EP for free (who does that anymore?). 
If you liked this, then you'll love:
Enter the Shell – Greg Holden Live
Album Review – Thank Me Later by Drake
Artist of the Week – Sara Bareilles
Album Review – Come Around Sundown by Kings of Leon
Enter the Shell – Jon LaJoie