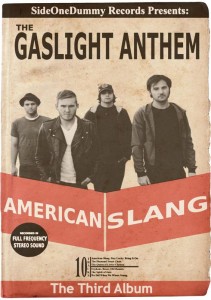 The Gaslight Anthem
American Slang: SideOneDummy Records
To not mention Bruce Springsteen when talking about Brian Fallon and his gruff folk punkers The Gaslight Anthem, is to drink from the Hudson River: it's dim, unprofessional and irresponsible. Only a deaf person would not be able to understand how the Jersey natives have channeled the sound and spirit of "the Boss" on their recently released album American Slang.
According to an article on thestar.com, the band ensures that it was not their intention. They have indicated that the Rolling Stones, Blues Breakers with Eric Clapton and Derek and the Dominoes were more of an influence on the record than Springsteen. But more and more, Slang reveals the strikingly similar musical identities of both Garden State heroes with every listen. So it is difficult to disregard any kind of underlying kinship – both are sturdy, gut-busting hard asses that tell the tales of the working stiff, love hungry and patriotic residents that inhabit the heartland.
The group has recruited founding "Flogging Molly" guitarist Ted Hutt to produce for the second time. Hutt first worked on Gaslight's second album The '59 Sound two years ago and has also worked with New Jersey punk band of comparable sound, The Bouncing Souls.
Fallon often assumes Dr. Jekyll and Mr. Hyde duty while singing. Either the lyrics come from the voice of a damaged lover – "Bring It On," "We Did It When We Were Young," or the tough, misfit  that roams Main St, USA  at night with a lit cigarette –"American Slang," "Old Haunts" ( don't sing me your songs about the good time/ those days are gone and you should just let 'em go/ God help the man who says if you'd had known me when/ old haunts are for forgotten ghosts).
Slang's tracks aren't too technical but in their ease lays radiance. The tandem of Fallon at lead and Alex Rosamilia at rhythm  guitar is a classic one. Rosamilia chugs through songs like "Boxer," while Fallon tears through speedy melodies and groans stories like a veteran. Fallon is a duo in itself, with his guitar and his sand-papered voice. Realizing this combo, Hutt recorded both aspects loudest and layered them as the focus.
The overall rhythm of the album remains traditionally punk; it is compromised of mostly eighth and sixteenth notes. "The Spirit of Jazz," a song about a regret-filled, past relationship has drummer Ben Horowitz clambering on his kit like an animal – the Animal in fact – firing off some pristine fills without effort like the Muppet great.
As "The Spirit of Jazz" suggests, Fallon had a love but treated her wrong years ago. Now he is older, wiser and filled to the brim with regret. A time in his life that he will look back at with a sting. The opposite could be said about American Slang. When Fallon and the rest of The Gaslight Anthem, look back on this time and the work they did, they will not reminisce with pain. They will reminisce with pride for they have released one hell of an album.
Buy the album at our record store on Amazon
Might we recommend some previous shows & blogs you might totally digg: