Podcast: Play in new window | Download
Play The Enter The Shell Show with Jon Lajoie
Comedian, actor, rapper, singer, musician and Internet celebrity Jon Lajoie joins Turrtle and "After" front-man  Jose Freitas, for a interesting chat about his music, life and being hung over!
Now that you love Jon Lajoie buy his albums on Amazon! Pick yourself up a copy Jon Lajoie's latest album "I Kill People" and since you're already there, pick up his debut album "You Want Some Of This." Socialize with Jon Lajoie on his Facebook, Twitter and MySpace! Check out his hilarious videos on Jon Lajoie's YouTube Channel
Special thanks to Jose Freitas, from After for providing the tunes! Follow them on Twitter, become a fan on Facebook, and check them out on Myspace.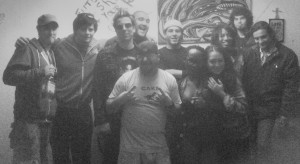 Help support After and buy their latest album on Amazon  entitled "Redeye" or pick it up on CD Baby
Special thanks to Noho2 Studio for providing the space to broadcast from and to Skullr Records for helping engineer the broadcast!
Might we recommend some previous shows & blogs you might totally digg: