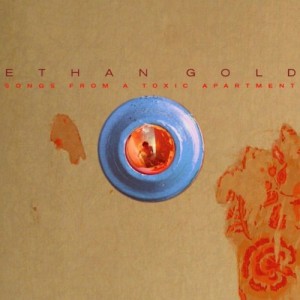 Oftentimes songs, or entire albums, can be autobiographical and can offer a brief glimpse into the artists psyche or life experience.   It's a rare occurrence when that glimpse feels truly authentic.  One can point to the Reggie and the Full Effect album Last Stop: Crappy Town, Weezer's Pinkerton and Korn's Korn as the most encompassing albums that adhere to this instance.  Now, we can add Ethan Gold's Songs from a Toxic Apartment to that list.
Written, recorded and produced in an apartment that could have literally killed Gold had he not moved out, Songs . .
. creaks, groans and moans like you would expect a lethal apartment to.  Gold's intensely intimate voice has a unique charm that feels like he's singing directly to you and no one else.  The atmospheres created throughout the album, be it ambient hall noises or programmed synth lines, have a slightly haunting and highly cinematic effect—like looking through a wormhole into someone else's mind.
Some choice cuts from Songs . . . include the less-than-encouraging lullaby "Why Don't You Sleep?," the electro-rock hallucinatory "Poison," the few-steps-before-a-full-mental-break "I.C.U. (Toxic)" and the reflective "Royal Flush."
For fans of the aforementioned Weezer, Pavement and Golden Smog, Ethan Gold has that kind of off-his-meds charm that you've come to know in your music.  Here's to hoping that Gold can sell enough albums and afford to live in a new place devoid of toxic mold, asbestos, roaches and carbon monoxide (although, he may lose his deadly muse).
If you liked this, then you'll love: