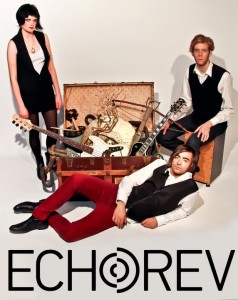 Starting first and foremost with their sound, ECHOREV establishes themselves as a truly diverse trio, describing their music as "both a form of accessible pop-music and an eclectic, not-so-traditional mix derived from all of our individual influences."
The band consists of Johnny Nicholson from California, Jörn Bielfeldt from Germany, and Ann Driscoll of Ohio. Their experiences in various corners of the globe have given them an incite into breeding a new blend of indie rock music, crafted with instruments like the guitar, synthesizer, button-accordion, and processed drums.
Visit ECHOREV on their Website, Twitter, Facebook, and Vimeo.
Podcast: Play in new window | Download
To download to your hard drive: Right-Click on Download and "Save As"
Let me know your thoughts, email me Turrtle@EnterTheShell.com
Got Stitcher? We're on it! So get it! Stitcher is a award-winning provider of news and talk radio for your mobile phone, Stitcher is smart radio for your smart phone
Visit Enter The Shell on Facebook, Twitter, YouTube and write us a review on Itunes.
Get a glimpse of what its like to Enter The Shell, by checking out the performances on the ETS Show by Clicking Here!
Here are some other ETS you might be into: