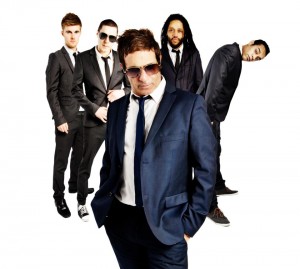 Dub Pistols have spent the past 15 years winning over audiences globally with their infectious blend of ska, dub, hip-hop, DnB, electronic and punk. Their fifth studio album, Worshipping The Dollar, is a collection of diverse tracks that showcases the band's vast influences while remaining incessantly catchy throughout. Released today on Sunday Best Recordings, Worshipping The Dollar is now available via iTunes and all other digital retailers.
Album track "Countermeasure" shines with a hip hop-infused melody that begs you to move from beginning to end. For a taste of one of the many styles Dub Pistols tap into on the new record.
Worshipping The Dollar sees guests like UK hip hop legend Rodney P., rising Barbados reggae act Red Star Lion, Ashley Slater (Kitten & The Hip) and Bunna join Barry Ashworth and his motley crew. The album marks a return to lyrical themes explored on earlier albums, with deeper, more conscious lyrics and what Ashworth describes as "a lot of food for thought." Having played sold-out shows across Europe, Dub Pistols were voted Best Live Act by DJ Mag last year, and are currently in the midst of a string of UK summer festival dates.
Visit Dub Pistols on their Website, iTunes MySpace, YouTube, Facebook and Twitter!
Podcast: Play in new window | Download
Visit Enter The Shell on Facebook, Twitter, YouTube and write us a review on Itunes.
Enjoy and if you can, let me know what you think! Turrtle@EnterTheShell.com
Got Stitcher? We're on it! So get it! Stitcher is a award-winning provider of news and talk radio for your mobile phone, Stitcher is smart radio for your smart phone
Get a glimpse of what its like to Enter The Shell, by checking out the performances on the ETS Show by Clicking Here!
Here are some other ETS you might be into: