Are you one of those who thought the soundtrack for the movie "Little Miss Sunshine" was amazing? I am. Is this sounding familiar to anyone? Okay, sure, I said the exact same thing (minus the name of the movie) for last week's review of Imogen Heap's Ellipse, but the same exact thing is true this week! DeVotchKa is one of the best bands you should be listening to!
DeVotchKa, a quartet from Denver, Colorado, is a band that mixes so many different styles of music (Romani, Greek, Slavic, Bolero, Mariachi, punk, folk, etc.) together as one. You would think they were from Eastern Europe from the sound of their songs, but it just goes to show how eclectic they are. They scored the soundtrack for the movie "Little Miss Sunshine" with composer Mychael Danna and most of the music used is from their album How It Ends. Good call, I say!
There are so many good songs on this album that it's so difficult to choose some highlights, but here are my favorites.
"You Love Me" starts off the album with a slow acoustic guitar and a sweet melody. It may sound sweet at first, but the title can be deceiving because the main line in the song is actually "you said you loved me." The most heartbreaking part of the song is during the second verse when lead singer Nick Urata wails out, "Now there's something missing when/You're kissing me/It's subtle yet it's gone/And then I'm suspicious/And then it gets vicious/And then it's a hole right through the heart." Urata must have gone through some real relationship issues himself because he has a real knack for making the listener feel the same heartbreak he feels … or at least felt at the time h
e wrote the song.
Another great song is "Enemy Guns," which is just a bad ass song. It starts off with whistling you'd hear in an old Western movie and is accompanied by rapid violins along with slightly distorted and delayed guitars. A bass line is also included in there and it all just makes you want to whip out your pistol, spin it around your finger and shoot some tar-heeled yeller-bellied good-fer-nothin' scoundrels! Later in the song, an accordion makes an appearance that brings the gypsy vibe into the mix then at the end, a machine gun-sounding snare puts the final touch on an awesome song! This band is just so all over the place with its influences, you can't help but love it!
DeVotchKa appeals to everyone merely with the feelings and emotions that are conveyed. The title track, "How It Ends," is a perfect example of this. If you hear the song, you may find that it sounds familiar and that is because it was featured in a trailer for the video game "Gears of War 2" that was aired on television. I saw it a few times myself and though I'm not a fan of video games about wars, the song pumped me up and made me want to play this game! The song is so full of sadness not only due to Urata's wailing voice and the lyrics that reflect Judgment Day and questions about life and death, but the band accomplishes the feeling of emptiness, loss and sadness with the use of strings and piano. These are very powerful and emotional instruments on their own.

How It Ends features many songs depicting heartache, pain, death, sorrow, etc. etc. All I've been saying in this review is that the band does an amazing job of conveying all these emotions and topics not only through their lyrics but with their music as well. Well "We're Leaving" is an AMAZING song that puts the emotional music aside and makes way for a good time … and it is HEAVILY Mariachi influenced! This is the perfect drinking song where DeVotchKa seem to say, LIVE WHILE YOU'RE ALIVE! I know I said in the pilot episode of Enter The Shell's drinkcasts that Alkaline Trio's "Cooking Wine" is the song that makes me want to drink, but I totally forgot about this gem! It's such an amazing song and my favorite of the album.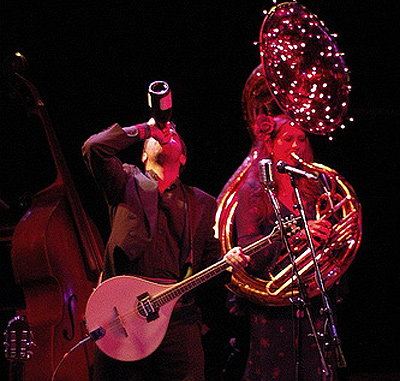 Like I said, there are so many good songs and it was difficult to choose which I wanted to highlight. Some songs that are worth mentioning though are these:
"Twenty-Six Temptations" – I must say, the fact that Jeanie Schroder plays something called a sousaphone is in and of itself worth mentioning;
"Charlotte Mittnacht (The Fabulous Destiny Of…)" – this beautiful instrumental features accordion, more sousaphone and xylophone; and
"Such An Lovely Thing" – this song is totally gypsy influenced and sounds like it came straight off of Gogol Bordello's Gypsy Punk: Underdog World Strike.
Finally, one song that is actually not on the album but still worth checking out is "The Winner Is." Though it's not under that title, "The Winner Is" is actually a re-recording of "How It Ends" that was done for the soundtrack I mentioned above and was re-recorded with the help of Mychael Danna. It's the first song on the "Little Miss Sunshine" soundtrack and contains beautiful yet sad strings (by use of bow and picking, as well) and piano. The song goes to a whole new level though when Schroder's double bass kicks in. This instrumental version of the song allows you to FEEL the song much more than if it did have the lyrics included and, let's face it, sometimes songs are just better that way.
How It Ends is the perfect album to get if you have a real appreciation for eclectic world music that doesn't compromise lyrics in order to achieve anything. You can have amazing music to accompany amazing lyrics. DeVotchKa gives you both worlds and you need to explore it!
How It Ends and DeVotchKa's more recent release A Mad and Faithful Telling are both available now.
Buy the album at our record store on Amazon
If you were into this blog, here are some other you may be in to: