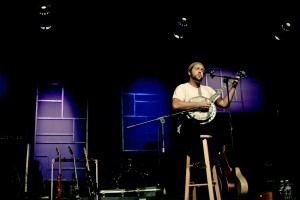 Clarke Edward Andros is an easy-going, small town guy, and that is easily seen through his bare-boned, acoustic style. He considers his love for writing and performing came from "simple curiosity and lucky finds."
When he was thirteen, Clarke found a guitar meant for young children in his closet – and hasn't been able to put down a guitar since. In 2010, he started writing folks songs with his friends and discovered that the poetry was a way to journal his thoughts. "I just started writing to get my thoughts out of my head to make some space for all the other happenings inside my scattered brain. If I have a thought for a song, I will often go where
my head takes me and put it down in less than five takes and don't look back." Clarke favors his banjo, saying that he's guilty of an "Americana induced smile" whenever he plays. It's through his banjo that he feels he found his style.
Visit Clarke Edward Andros on his Facebook and SoundCloud!
Podcast: Play in new window | Download
Visit Enter The Shell on Facebook, Twitter, YouTube and write us a review on Itunes.
Enjoy and if you can, let me know what you think! Turrtle@EnterTheShell.com
Got Stitcher? We're on it! So get it! Stitcher is a award-winning provider of news and talk radio for your mobile phone, Stitcher is smart radio for your smart phone
Get a glimpse of what its like to Enter The Shell, by checking out the performances on the ETS Show by Clicking Here!
Here are some other ETS you might be into: