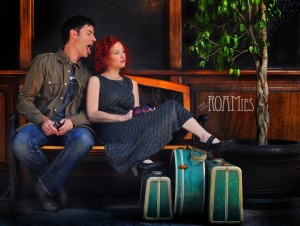 Its an all new PLaylist and were talking to The ROAMies! Born out of audience response to the chemistry of husband and wife team Rory Partin and Alexa James, the L.A.-based duo is already starting to gain critical acclaim, winning the award for Best Theme Song for a Comedy at the 2013 L.A. Webfest. The ROAMies will be returning to the venue where they made their live debut when they perform at Hotel Café on March 4. A debut album and European tour will follow in 2014.
Visit The ROAMies on their Website, Twitter, ReverbNation and Facebook!
To Save Podcast "Right Click and Save As"
Podcast: Play in new window | Download
Here's The Playlist:
1.  Paper Lions – "Do You Wanna"
2. The Open Feel – "Sidewalk Zombies"
3. The ROAMies – "The Rest Of My Life"
4. The ROAMies – "Come Runnin' To Me"
5. The ROAMies– "1,2,3,4"
6. The ROAMies– "Just A Kiss'"
Let me know your thoughts, email me Turrtle@EnterTheShell.com
Got Stitcher? We're on it! So get it! Stitcher is a award-winning provider of news and talk radio for your mobile phone, Stitcher is smart radio for your smart phone.
Visit Enter The Shell on Facebook, Twitter, YouTube and write us a review on Itunes.
Get a glimpse of what its like to Enter The Shell, by checking out the performances on the ETS Show by Clicking Here!
Here are some other ETS you might be into: