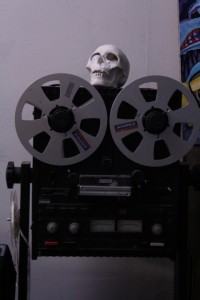 In this episode of the Playlist, Andy, Denim Dan and Turrtle take a look at the "Zombie Apocalypse"! We're giving you tips, escape plans; all to the sounds of this latest playlist! Will You Survive?
Here is the playlist:
1. Ankit Love- "Mental Revolution"
2. RAH RAH- "Parkade (NGHTBLND Remix)"
3. Caroline Smith & The Good Night Sleeps- "Calliope"
4. Mandala- "Flight"
5. Red Eye Fugu- "Prophecies (I Don't Mind)"
6. The Asteroid Shop- "Dandelion"
Podcast: Play in new window | Download
Let me know your thoughts, email me Turrtle@EnterTheShell.com
Got Stitcher? We're on it! So get it! Stitcher is a award-winning provider of news and talk radio for your mobile phone, Stitcher is smart radio for your smart phone
Visit Enter The Shell on Facebook, Twitter, YouTube and write us a review on Itunes.
Get a glimpse of what its like to Enter The Shell, by checking out the performances on the ETS Show by Clicking Here!
Here are some other ETS you might be into: