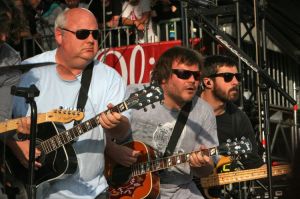 This week we take a look at Tenacious D as they perform live in Gremany, luckily for you the ETS Crew we're there! So enjoy this week's Bootleg Series!
Visit Enter The Shell on Facebook, Twitter, YouTube and write us a review on Itunes.
Got Stitcher? We're on it! So get it! Stitcher is a award-winning provider of news and talk radio for your mobile phone, Stitcher is smart radio for your smart phone
Get a glimpse of what its like to Enter The Shell, by checking out other performances on the ETS Show by
Clicking Here
!
To Save Song "Right Click and Save As"
Setlist:
00:00 Rize of the Fenix
06:00 Low Hangin' Fruit
09:25 Senorita
13:00 Deth Starr
17:30 Roadie
21:30 Throw Down
25:00 Saxaboom
26:40 Kielbasa
30:10 Kickapoo
34:40 The Metal
38:35 Beelzeboss (The Final Showdown)
44:50 The Who Medley
47:55 Fuck Her Gently
50:30 Tribute
56:00 Double Team
Might we recommend some previous shows & blogs you might totally dig: