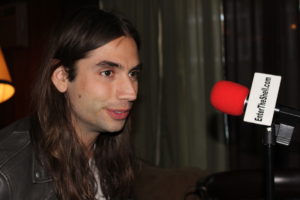 In this episode of the Tortoise & The Hare Experience, we're talking with Johnny Gates!
Los Angeles based singer/songwriter Johnny Gates isn't a rookie. Originally from Providence, RI, he started his first band in high school and immediately fell in love with music.
After getting close enough to taste his dream in Nashville, Johnny decided to pack up his gear and set sail to Los Angeles with his band, RUNAWAY SAINTS.
Since relocating to LA, Johnny has toured the US multiple times with RUNAWAY SAINTS, has become a fixture at Hollywood's prestigious Hotel Cafe, and also hit the road opening for Rod Stewart.
Now turning his attention to his first ever solo project, Johnny is back in the studio writing and recording with plans to launch the project in 2017.
Check out Johnny Gates on his Website, Instagram, & Twitter!
Podcast: Play in new window | Download
Like Tortoise and The Hare Experience On FACEBOOK BY CLICKING HERE!
Visit Enter The Shell on Facebook, Twitter, YouTube and write us a review on Itunes.