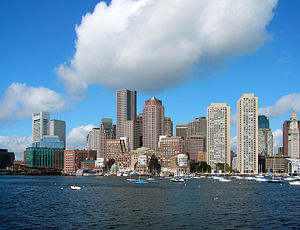 Generally these articles are pretty fun and silly. I write about my issues with the world and the music I listen to while dealing with said issues. But I'm not in a fun mood these days. I have no reason to be. My personal life is a mess, my career is in a stand still, I'm about to be unemployed, and I can't remember the last time that laughed for the hell of it. This week was even worse. A day that I hold near and dear was forever tarnished by the monstrous acts of a few. Sure the bombing of the Boston Marathon has saturated the media for the past few days, and sure you've heard enough about it, but I'm going to get my fucking say. Boston was my town. For a long time I felt like I didn't have a home. Seattle had always been the place I grew up, but after the age of 15 I had never lived in a place for more than a year. It took me six years before finally settling down. Six years of the vagabond lifestyle before I finally landed in the city of Boston. It really is unlike any other place in America. It's a blue-collar town where the people are hardened, but once you enter that inner circle, you are there forever. Boston has a special place in my heart. I was there for five years and I will always look back on those years as some of the happiest of my life. I may never be able to say that I am from Boston, but I will forever be able to say that, at one point, it was my home. This Week is an AOTW tribute to everyone from Allston to Downtown, from Southie to Cambridge, from the North End to Fenway; big ups to Boston and the music about you. We are all hanging with you.
Feeling much better after starting to take two every morning before breakfast. . Our Online Canadian Pharmacy is also accredited by the Canadian International Pharmacy Association (CIPA).
You can't mention Boston without singing a Dropkick Murphys song. This band has become synonymous with the city for years, even more so since they released their track Shipping Up To Boston, which was attached to the film The Departed. These fine punk gents have been keeping the irish folk sound alive in one form or another since 1996. They rip. Huge energy, musicianship is flawless, and they can get a crowd going like you wouldn't believe. I saw them in 2007 during the Red Sox World Series parade. They played on the back of flatbed truck as a drunk Jonathan Papelbon danced what might be deemed as a sorry excuse for a jig. The city was over run with people that day, and the Dropkick Murphies garnered nearly as much attention from the hordes as the new world champs.
I remember this shit like it was yesterday. I love these guys a lot, and then you read stuff like this and you love them more.
Another Boston song that isn't a Boston song at all in reality, comes from the band The Standells, a 1960's garage rock band that put out the track Dirty Water in 1966. This band is not from Boston. Hell they aren't even from Worchester (pronounced WUHSTER). These assholes are from LA. And yeah…I count that as a knock against them. If you meet someone from LA and the first thing they say is, "I'm from LA", you secretly hold it against them. I don't care who you are. Hell, I live in LA now. Rarely do I enjoy the company of people who tell me they are from LA. Not only that but I generally don't enjoy the music coming out of LA. But this song….this song is about a city I love and I am on board.
The last track I want to get into here is also forever paired with the city. Many life long locals will say they hate this track, but sometimes people don't know what's good for them. Since the dawn of playing Sweet Caroline during the 8th inning of Red Sox games, the team has won two World Series. One of the happiest memories I have in this town is going to a Red Sox game with three of my best friends on my 21st birthday. Beer was spilled, chats were had, and Sweet Caroline was most definitely sung.
The best part of this night was when we went to a bar afterwards where people were watching Monday Night Football  in relative silence. That was until my buddy Alex took it upon himself to put on Bon Jovi's You Give Love A Bad Name. Alex is one of the nicest people I've ever met. No one hates Alex. But at that very moment, every on at The Tam wanted to punch his face in.
The Marathon has always been a welcomed tradition. It was on Monday, no class, the Red Sox played early, and the city for the most part turned into a big party. It was a one-day Mardi Gras. Generally my friends and I would throw a party the Sunday prior before and spend Patriots day wandering the streets in recovery. That was the way things were. It was always friendly, fun, and safe. That is not the way things are now. As I write this, Boston has become the center of attention with bloody headlines again. A shooting at MIT. I don't know what's going on with my adopted city, but I know the people living there, and anyone that has ever lived there will stand strong. Boston is not a city that flinches. If the people of Boston shied away from adversity, they never would have developed that accent. I love you Boston. I always have. Even when I was lost in your streets while being chased by a guy whose fiancé I may or may not have hooked up with. But that's another story for another day. Stand strong Beantown
Big Hugs,
Kelly