KUBE 93.3. Man that shit was the jam. Back in the 90's there was no other place to turn to for hip-hop music in Seattle. Gone were the names from the early 90's. Not like they retired. They were dead. Biggie was 6ft under, as was Tupac. Actually that kinda depends on who you ask. Some still contend that Tupac was alive somewhere in Barbados releasing shitty tracks that Death Row continues to put out as FOUND UNRELEASED MATERIAL.
After those guys dropped out, there was a void in the game. So in 1998 a very impressionable young Kelly who was cruising around in the back of the family Suburban, proclaiming that, "This soft KLSY shit with Kenny Loggins and Kenny G wasn't gonna cut it anymore," was aching to get hyped on some fresh beats before being dropped off for football practice. That was when I heard the one artist who could do better than the rest.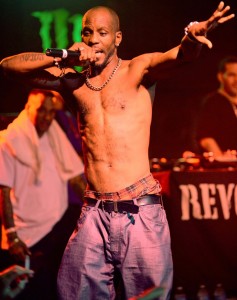 I hadn't listened to him in years, but recently I started playing ice hockey. The games start anywhere from 9:30PM to 11:30PM and after a long day at work, it's pretty hard to get pumped up for violent activity. In order to get hyped up I went back to the days of the Suburban back seat, to a time when this man was considered by me to be one of the greatest rappers alive. That man is DMX and he is THIS WEEK'S ARTIST OF THE WEEK.
Let's open this up with the first DMX song I ever heard. I used to blast this on my three-disc changer with the bangin subwoofer and wild out in my room. That song is Ruff Ryders Anthem off of It's Dark And Hell Is Hot.

I would kick off in my room, shirtless, pants sagging, yelling "what" over and over again, all while barking incessantly. I was a weird kid.  I think it was the sheer volume of the tracks that attracted me to DMX's music. It was chaotic and aggressive. In a word: beautiful.  Actually, two words: beautiful perfection. Yeah. That's better.
When And Then There Was X came out a year later, the love of DMX was solidified. His stop/start flow made it easy for my feeble mind to follow the lyrics, while his hardcore beats made me feel notorious. This was definitely the case with his track What's My Name. The keys that play in the opening are haunting and it's followed up with everything you'd ever want from a DMX song, barking, yelling, a bangin chorus, and a hot video for TRL. CARSON DALY WAS MY DUDE. DMX is the only guy who can look cool in a red leather pants/ jacket combo. Looking back, this video (pre Michael Vick) features a lot of dog fighting. Were people okay with dog fighting for a while? It's pretty prominent here.

My love for the man really peaked when I convinced my dad that it would be a good idea to take my friend and I to see him live. DMX & The Cash Money Millionaires at the Key Arena. My dad was a trooper. I made the guy go see Korn and DMX in the same month. He went, never complained, and read a John Grisham novel through each show. CLASSIC!!! DMX was two hours late but when the show kicked off I was forever changed. Highlights of the show were DMX's performance of Crime Story, which is a legit good rap song, The Cash money Millionaires having a giant inflatable dick explode out of a box during their hit Back That Ass Up while babes came on stage and shook their butts, and then the moment in the show when we saw three kids from school dancing in their seats while all their moms sat to the side in disgust. Here's Crime Story.

After this album I sort of lost touch with DMX. I got more invested with Method Man & Redman, The Wu Tang Clan, and Eminem. Sure I tuned back in when Where The Hood At came out,
but that was about it. There wasn't a whole lot of variation between his songs. The guy was like a DH. He did one thing really well. But if you asked him to play third, he's gonna look like a bumbling buffoon. I tuned out.
That was until the behavior of DMX started to get weirder and weirder. Rather than drifting out of the public eye, his name would pop up. Why? Arrests. That's why! One wacky arrest after another.
Just take a look at this wrap sheet:
1998-99
•   DMX was tried for rape and sodomy, sexual abuse, and unlawful imprisonment.[28][dead link] The case was dismissed when the DNA evidence did not match his own DNA.[29]
•   DMX joined rappers Jay-Z, Method Man, and Redman for Jay-Z's 1999 Hard Knock Life tour, during which he was arrested for charges of a stabbing at a tour stop in Boston, Massachusetts; he was cleared of the charge (and another assault charge during the same year in his hometown of Yonkers).
•   DMX and his wife were arrested in 1999 after his uncle (and then manager) was accidentally shot at a hotel in New Jersey, charged with animal cruelty and possession of crack cocaine and weapons.[30] DMX successfully plea-bargained, which reduced his sentence to paying fines, probation, and community service.
•   When officers of the Fort Lee Police Department executed a search of his home in 1999, DMX promptly surrendered himself on
weapons possession charges.[31]
2000-05
•   DMX served a 15-day jail sentence in 2000 for possession of marijuana.[32]
•   Following a concert in Buffalo, New York in March 2000, DMX was arrested from a vehicle on New York State Route 33 in Cheektowaga, New York. He was charged with aggravated unlicensed operation of a motor vehicle, speeding, failure to signal, driving without a license, failure to notify the DMV of an address change, and possession of marijuana. He failed to appear at the subsequent hearing scheduled for March 21 in Cheektowaga, which lead to a warrant for his arrest. He later turned himself in, pled guilty to a reduced charge of driving without a license, and was sentenced to 15 days in jail and fined $400.
•   DMX served another jail sentence in 2001 for driving without a license and possession of marijuana. His appeal to reduce the sentence was denied; rather, he was charged with assault for throwing objects at prison guards. DMX entered rehab to treat his addiction to drugs in 2002.[33][34]
•   In June 2003, DMX was arrested for using indecent language during a performance at Saint Kitts and Nevis. The country's Information Minister alleged that a contract signed before the concert stipulated the show would be without indecent language on stage. DMX was released on $376 bail.[35]
•   DMX was arrested in June 2004, at the John F. Kennedy International Airport, on charges of cocaine possession, criminal impersonation, criminal possession of a weapon, criminal mischief, menacing, and driving under the influence of drugs or alcohol, while claiming to be a federal agent and attempting to carjack a vehicle.[36] He was given a conditional discharge on December 8, 2004, but pled guilty on October 25, 2005, to violating parole.[37]
•   DMX was sentenced to 70 days in jail on November 18, 2005, for violating parole; the lateness charge added a 10-day extension to the original 60-day sentence.[38] DMX was released early (for "good behavior") on December 30, 2005.[39]
2008-11
•   DMX pled guilty to charges of drug possession, theft, and animal cruelty, at a hearing on December 30, 2008; he was sentenced to ninety days in jail on January 31, 2009.[40][41]
•   On May 22, 2009, DMX entered a plea agreement/change of plea, and pled guilty to attempted aggravated assault.
•   After serving four out of six months for violating drug probation, DMX was released from jail on July 6, 2010.[42] That day, a television pilot was filmed to portray his road to recovery; however, DMX was arrested three weeks later and the pilot did not evolve into a series.
•   On July 27, 2010, DMX turned himself in to Los Angeles Metropolitan Court for a reckless driving charge he received in 2002. He was sentenced to serve ninety days in jail.[43][44]
•   DMX was arrested in Maricopa County, Arizona on November 19, 2010, on charges of violating his probation by consuming alcohol (at a performance). On December 20, 2010, DMX was moved to the Mental Health Unit of the Arizona State Prison,[45] and released on July 18, 2011.[46]
•   DMX was arrested on August 24, 2011, for speeding (recorded as 102 mph in a 65 mph zone), reckless driving, and driving with a suspended license. While DMX admitted to speeding, he claims he was driving 85 mph, not 102 mph as charged. DMX sued the Arizona police.[47]
2013
•   DMX was arrested on February 13, 2013 in Spartanburg, South Carolina for driving without a drivers license.[48]
•   He was arrested again on July 26, 2013 in Greenville County, South Carolina and charged with driving under the influence of alcohol, as well as driving without a license.[49]
•   DMX was arrested on August 20, 2013 in Greer, South Carolina during a traffic stop after a car he was a passenger in made an improper u-turn. He was arrested due to an outstanding warrant for driving under suspension. Four packages of marijuana were also found in the vehicle, and he along with the driver were cited for them. [50][51][52]
DMX was again arrested on November 4, 2013 by the Greenville-Spartanburg International Airport police near Greer, South Carolina after police, who were familiar with his prior arrests, noticed DMX behind the wheel of a vehicle at the terminal. DMX was booked on charges of driving under suspension, having an uninsured vehicle, and not having a licensed vehicle. He was subsequently released after spending three hours in jail.[53]
-WIKIPEDIA
If you're a celebrity, telling people you're a federal agent isn't really an option. People know you dude. You're DMX. You don't work for the FBI. This isn't Cradle 2 The Grave. This is real life duder. THAT'S NEXT LEVEL CRAZY.
Despite him being a bit of a one trick pony and having a real dog shit movie career, I will always have a soft spot in my heart for the DMX of old. How can I not? He is responsible for me asking my parents for a pair of oversized Timberlands for XMAS in Junior High. Revisit his classics people. You won't regret it. Lately I've been using his music to break up late night hipster parties thrown by my roommates. Nothing disperses a crowd of hipsters like barking and liberal use of the N word.
Big Hugs,
Kelly