They say you only regret the things you don't do. I call bullshit. That's your Dad's version of YOLO. I'm willing to bet your Dad has a shit load of things he wishes he didn't do, most notably have a secret Canadian family or banging the hooker outside of Bangkok while traveling abroad with his frat bros from Sigma Moo. Those warts that pop up twice a year are probably a reminder of something he wishes HE DID NOT DO. I'm constantly regretting things I do or have done meanwhile rarely do I regret skipping out on a friend' s suicidal weekend plans.
The are things that I wish I had done though. I am not without fault. One involves this week's band. When I was working at a bar in college. I was dead broke and given the opportunity to go see The Presidents of The United States of America. I knew I wanted to go to the show but I had no cash and knew that I could pick up a double shift at work and put myself in the black for the first time in months. Sadly I declined the ticket. Two friends that did end up going to the show were kind enough to pick up a T-Shirt for me. I was thankful sure, but it remains a constant reminder to me that I didn't see one of the most influential bands of my youth. They got lifetime memories. I got a ringer T. When you look at it like that it doesn't seem like making an extra $200 was worth. POTUSA was a rock band that stood for fun. Their jams moved fast and their lyrics were hilarious. That 's why they are this week's ARTIST OF THE WEEK: LEGEND.
In the 90's while much of the Pacific Northwest was shrouded in the squealing feed back of grunge there was another Seattle rock band that was more about hangin' and having a good time than fighting as the proletariat against the on coming swill of society. I'm not sure what that last bit means but it sounds like something a 25 year old Kurt Cobain would have said that many would have considered deep and prophetic. In 1993 The Presidents of The United States of America formed with lead bassist/ vocalist Chris Ballew along with basstarist Dave Dederer and drummer Andrew McKagan . As a kid I needed that to balance out the gangster rap and Nevermind. They were tunes that everyone could be on board with. The music never took itself too seriously which is what makes it so easy to love.
Their first record, a self-titled, was recorded and released in 1994. The debut record featured such notable hits as
 Peaches
 Lump

and my favorite, the lesser known Stranger.
These were the songs I would play as a kid when I wanted to kick it up a notch. This was the 10 year old me equivalent to Andrew W.K. Music that signified nothing more than a party.
Their follow up album II was released in 1996. When you look back you can see that the band did not stop touring from the release of their first album in 1994 until 1997. The fact that they even found the time to record a second album is amazing. These fellas were big time road dogs until lead singer Ballew got married and started a family.
The band was making a living, playing sold out shows all over the world and then it abruptly came to an end. Ballew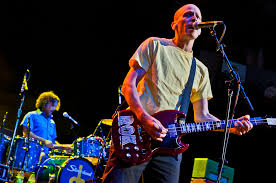 had had decided, rather than continue on with the rock and roll lifestyle, hang it up and spend more time back in his Seattle home with those that he loved the most. He walked out at the peak. As a kid I was upset by this fact and really couldn't find a way to let it go. This is why no one takes 11 year olds seriously. They can't see the forest for the trees. Now as an older guy who rarely gets to see his own family, I get it. On the road over 200 days a year is the grind of grinds. At some point the body and the mind are just going to tell you: STOP DUDE. The band disbanded in 1998.
1998 would not be the end of music from the guys however. After the break up the band released a third album titled Pure Frosting. It was a mix of new songs, unreleased tracks, covers, and live takes. This was the farewell letter to the fans. It's a great record. The live version of Back Porch alone makes it totally worth it.
Not being together didn't stop the guys from making music on their own.  Ballew created tunes with both The Giraffes and The Tycoons while Dederer joined up with Duff McKagan on The Gentlemen and Loaded.
The band reformed briefly in 2001 only to break up again. That break up didn't stick either and the band reformed fully in 2004 and have been making music on and off together ever since. This past week they released their latest full length, 20 years since their initial effort. I wish I could write about it here and now but I haven't listened to it YET. I'd love to hear what you guys think, Check out Kudos to You! and let's get a discussion going. They check out the rest of their catalogue. It's very worth it.

Big Hugs,
Kelly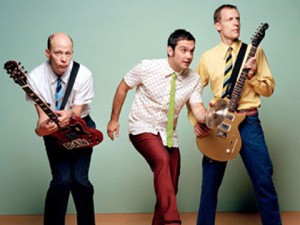 LINKS
http://www.presidentsrock.com/
https://twitter.com/therealpusa
https://www.facebook.com/pages/The-Presidents-Of-The-United-States-Of-America/6845033199