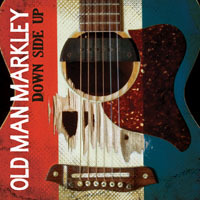 Capsules are regular size and easy to swallow, and I like that the jar has screw cap.
Order viagra online
! Sixty-three percent, 74%, and 82% of the patients on 25 mg, 50 mg and 100 mg of our medications, respectively, reported an improvement in their health.
Flogging Molly.  Gogol Bordelo.  Mumford and Sons.  These are just a handful of the bands that have taken a traditional style of music (Folk, from their respective regions of the globe) and mashed it together with either punk rock (the first two) or modern songwriting sensibilities (the latter) and "turned" it into something "new."  We can add "newgrass" act, Old Man Markley to that list as well.
The seven-piece group, based out of Los Angeles (the undisputed mecca of Bluegrass), has released their sophomore record, Down Side Up, and – despite their inclusion of traditional, Bluegrass instruments (fiddle, washboard, stand up bass, banjo) – I can't quite shake the impression that these cats are the love child of "Weird" Al Yankovic and They Might Be Giants.  This isn't necessarily a negative connotation, but speaks more directly to their lack of "punk" that is allegedly contained in their musical formula.
That isn't to say that Down Side Up is a bad album.  On the contrary, this is one of those rare records that the entire, Chuck Taylor-wearing, tattoed family can enjoy.  The approachability of John Carey's voice; the consistent, up beat tempo; and the previously mentioned comparisons to "safe" artists your parents can get behind is, collectively, a difficult formula to create.  If one were to describe Down Side Up, it would have to be, "fun."
Although the concept of "newgrass" seems like fodder for the hipster ethos, the PG nature of Old Man Markley's material will drive the elitist types away faster than a "Closed" sign on a vegan coffee shop.
So for the punk rock parents out there who are searching (read as, "dying") for anything else to listen to that isn't produced by Disney, Nickelodeon, or Selena Gomez, run out and purchase a copy of Down Side Up.   Hell, it's endorsed by Fat Mike of NOFX (the group is on his Fat Wreck Chords label), what more street cred do you need?
http://www.oldmanmarkley.com/
https://www.facebook.com/oldmanmarkley
https://twitter.com/OldManMarkley