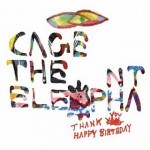 Since their debut album in 2009, Cage the Elephant has gone from relative unknown's to…well, slightly-less unknowns. I wouldn't exactly call them a popular act, however, extensive touring and radio play has certainly helped boost their fanbase. The Kentucky based band's second album, Thank You Happy Birthday, is interesting to say the least. Lead singer Matt Shultz's voice has such a fantastic range of qualities, including quiet and beautiful at times, to really loud, abrasive noise. In listening to the album, I wish I could have sat in as the producer and told the band, "NO! We don't chew on the microphones. Bad Cage the Elephant!!"
My biggest problem with them is they don't know who they want to be. Are they a grunge, punk, pop, or alternative act? With quality releases like Around My Head and Shake Me Down, I thought I was going to really enjoy the album until I got to a track like Indy Kids or Japanese Buffalo and I had to check my iPod to make sure I was still listening to the same band. There is certainly not one particular theme to the album and no flow between the songs whatsoever. Sometimes I felt like I was listening to one of Nirvana's lesser-known, poorly-recorded b-sides, other times I felt I was listening to a great Beck or Modest Mouse album.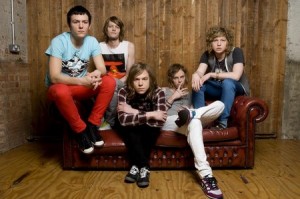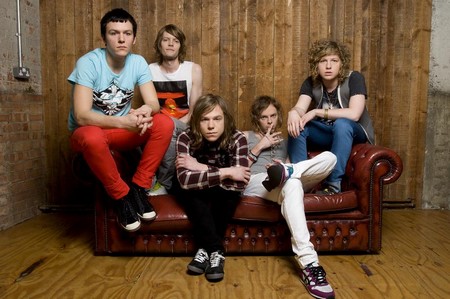 The way I see it, there is there are 2 different Cage the Elephants' featured on the album, the good-enjoyable band (Rubber Ball, Always Something, Shake Me Down, Around My Head, Flow, Aberdeen) and the terribly annoying, possibly tripping on acid, band, (Indy Kids, 2024, Sell Yourself, Sabertooth Tiger, Japanese Buffalo). If they were to stick to one or the other, they could cohesively make a great album.
In the end, Thank You Happy Birthday is perfect for those who can't decide what kind of music they want to listen to, because there is always something different around the corner. I loved it, I hated it; and after 5+ listens to the album, I'm still indifferent. It is like a psychotic uncle, unpredictable and you don't really feel comfortable around them at all times, because they could be off their meds.
Matt's score: C+
Buy this album at our record store! Click Here!
Check out more from Enter the Shell:
Album Review: Cee Lo Green
Enter the Shell show Pithy Sweet Live
Album Review: Of Montreal
FREE Download: Middle Brother
Sara's Most anticipated albums of 2011