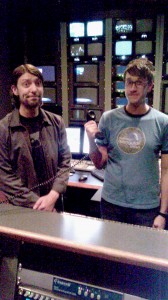 In This latest installment of the Playlist, we're talking with JP and Matt from Built By Snow! We'll be looking at their latest project "Oh Look Out" as well as catching up with the latest in music in this edition of The Playlist!
Visit JP on his Website for Oh Look Out, and Website for Built By Snow
Here is the playlist:
1. ComaSoft– "10 VOLT"
2. Alert New London– "Silverdrive"
3. Oh Look Out– Start Start
4. Oh Look Out– Let It Out
5. Oh Look Out– Analogotron
6. Built By Snow– Implode Alright
Podcast: Play in new window | Download
Let me know your thoughts, email me Turrtle@EnterTheShell.com
Got Stitcher? We're on it! So get it! Stitcher is a award-winning provider of news and talk radio for your mobile phone, Stitcher is smart radio for your smart phone
Visit Enter The Shell on Facebook, Twitter, YouTube and write us a review on Itunes.
Get a glimpse of what its like to Enter The Shell, by checking out the performances on the ETS Show by Clicking Here!
Here are some other ETS you might be into: