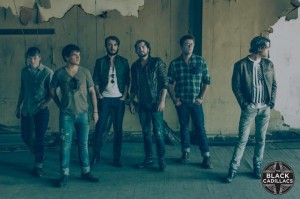 The Black Cadillacs are a 6-piece rock & roll band from Knoxville, TN made up of Will Horton, Philip Anderson, Matthew Hyrka, John Phillips, Kevin Hyfantis and Adam Bonomo. Over the last 3 years they have been working hard to hone their sound and live performance, and have made a name for themselves in the Knoxville region. Their sophomore album Run was released through Young Giant on June 5, 2012.
They draw upon a diverse group of influences from classic bands like The Rolling Stones, The Who, and Pink Floyd to more modern bands like My Morning Jacket, The Black Keys, and Jack White. The Black Cadillacs have melded together their many influences to create an album full of strong guitar melodies that are matched with catchy lyrics, which will have you singing along in no time.
Visit The Black Cadillacs on there Website, Facebook, Twitter, and YouTube!
Podcast: Play in new window | Download
Visit Enter The Shell on Facebook, Twitter, YouTube and write us a review on Itunes.
Enjoy and if you can, let me know what you think! Turrtle@EnterTheShell.com
Got Stitcher? We're on it! So get it! Stitcher is a award-winning provider of news and talk radio for your mobile phone, Stitcher is smart radio for your smart phone
Get a glimpse of what its like to Enter The Shell, by checking out the performances on the ETS Show by Clicking Here!
Here are some other ETS you might be into: