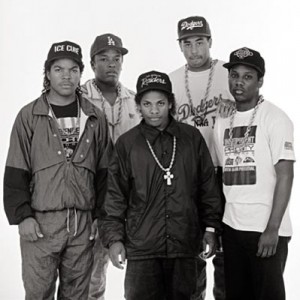 The AOTW: LEGENDS series is back! Time to take a look at one of the greats. For many, this is just a friendly reminder that N.W.A.'s Straight Outta Compton is a masterpiece. If you are unfamiliar with the album, make sure to listen to the music that's posted here. There's no point in reading about these cats without hearing their stuff because you won't fully comprehend what they did and the effect it had. These guys shook up the world and gave birth a genre of music that became the soundtrack or rebellion for a new generation. The following are some excerpts from and academic essay I wrote back in 2006. It's been cut down from about 10 pages of work so it's not as in depth as before, but it hits some good points. Enjoy.
Comin' Straight Outta Compton:
America Witnesses the "Strength of Street Knowledge"
At the end of the 1980's, popular music was at a crossroads. The hard rock hair bands that had been a staple of the decade were clutching to their last moments in the spotlight, as much attention had turned to the Northwest city of Seattle where the grunge sounds of Soundgarden, Alice in Chains, Mudhoney, and Nirvana were preparing to cross the chasm separating the underground from the mainstream. Meanwhile in the ghetto of Compton, CA a sleeping giant was about to awake and rear its head onto the music world and change the way people in this country think musically, politically, and socially. In 1988 Antoine Carraby (DJ Yella), Eric Wright (Eazy-E), O'Shea Jackson (Ice Cube), Andre Young (Dr. Dre) and Lorenzo Patterson (MC Ren), formed the group Niggaz With Attitude (N.W.A.). During that year they recorded their most influential album of all time, Straight Outta Compton. The album lays down the hardcore beats and lyrics in a style that would come to be known as gangsta rap. A musical genre defined by NYU professor Tricia Rose in which "[r]appers tell long, involved, and sometimes abstract stories with catchy and memorable phrases and beats that lend themselves to black sound bite packaging…in fast paced electrified rhythms"(Rose 3). It was N.W.A.'s raw power that gained praise from the underground society it spawned from, and the scorn of Capitol Hill. Straight Outta Compton was the album that released the gangland lifestyle from the cages of the inner city, and into the homes of American suburbia. It opened up a world to 80's White America that was neither welcome, nor understood. N.W.A. set the stage for the entire future of hip-hop. By making Straight Outta Compton, N.W.A. became the most influential hip-hop crew of all time.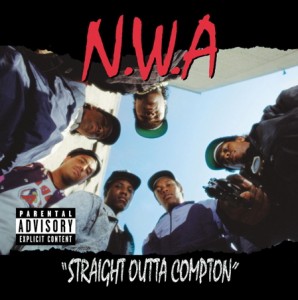 To better understand how and why N.W.A. rose to the glorified position they hold today, one must understand how the musical and lyrical content of their breakthrough album separated itself from contemporary music of the time. Most notably was their production. Dr. Dre was one of the first producers in hip-hop to take concepts from his samples and have them influence the record as a whole. Throughout Straight Outta Compton Dr. Dre mixes classic funk and Motown samples over hard-hitting beats to create a beautiful balance. Rollingstonemagazine credits Dr. Dre with  "pioneer[ing] the stop on a dime break"(Thompson 83) Citing that there would "be utter sonic confusion, and then, outta nowhere, the beats cut out" (Thompson 83). This concept was influenced by the very funk music Dre sampled, making him a sort of "audio auteur". While the group's production set them apart from others, one cannot ignore their ground breaking lyrical content.
Like the anti-government rock of the late 60s and 70s, N.W.A.'s music projected a refusal to go along with societal norms. While 80s bubblegum pop plagued the radio airwaves, hip-hop was underground, only heard on street corners and in select clubs. While Top-40 posed to be very successful commercially, their words were empty in comparison to the power of N.W.A.'s violent raw honesty. Their lyrics expressing a clear message of anger, to an audience that was just as angry as they were. The title alone of "Fuck the Police," boasts a statement more powerful than any other hip-hop album was making during that time. This song was everything that N.W.A. stood for. It raised a fist to the authority that N.W.A. and many minorities had deemed as racist, violent, money hungry pigs. At the time individuals against hip-hop, like Dan Quayle, saw this simply as a vulgar plague not only on music itself but the country as a whole. He denounced N.W.A. and all hip-hop by proclaiming "this music has no place in this society"(Kitwana 22). Sadly for Quayle, the group was on it's way to becoming a household name. In the book Why White Kids Love Hip-Hop, author Bakari Kitwana claims that so many connected with N.W.A. and their genre of music due to the fact that it identified with the struggles of the time, "in our lifetime, jobs for our youth have diminished in quality and quantity. Instead of rising too the challenge as a nation, we're more focused on placating corporate elites," (Kitwana 9). This new generation was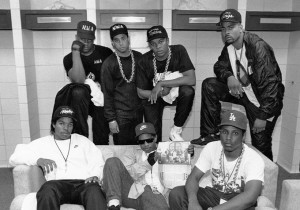 no longer willing to "toe the line" for those in positions of power.
While much of the record is pushed with power and energy, the most moving aspect of the album's references to drugs, violence, and misogyny is the fact that they are presented so casually, as they had become common place in the lives of both the artists and many poor minorities. On Gangsta, Gangsta Ice Cube openly raps about his gangsta lifstyle, leaving nothing to the imagination.
"never shoulda been let out the penitentiary
Ice Cube would like ta say
That I'm a crazy mutha fucka from around the way
Since I was a youth, I smoked weed out
Now I'm the mutha fucka that ya read about
Takin' a life or two," (N.W.A."Gangsta, Gangsta"
Straight Outta Compton)
This gangsta image spawned a whole different ideology of what hip-hop was. Suddenly, to get any sort of recognition from the industry, artists must have a "gangsta" past. Rutgers Professor Imani Perry attributes these ideals to the notion that "[i]n order to retain a sense of authenticity and connectedness to black communities…artists began to live out the narratives of gangster lives" (Perry 94).
The Hip-Hop genre had now given middle American mothers the notion that it's artist were nothing but gang banging thugs, out to negatively influence the nation's children. Many politicians joined Quayle in using rap music as a soapbox. Quayle further trumpeted the fight against hip-hop calling it" the decline of national decency," (Kitwana 20). As the genre went from the underground to the mainstream, parents began to take notice. N.W.A. caught the eye of Tipper Gore and her Parental Music Resource Center (PMRC) an organization dedicated to "protecting" children from "harmful" music. Influence from this organization on other publicly funded groups. One incident involved a board of trustees in the State of Washington voting N.W.A. "off the shelves of a 19 branch [library] system, located just north of Seattle. The initial vote was in April; at that time only one of the trustees had heard the tape" (Anderson 1). People were taking a stand without ever even hearing the songs they were standing against.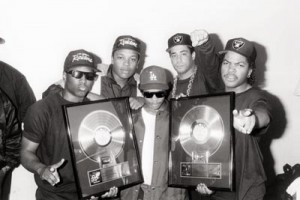 While these actions were taken to specifically keep people from listening to the music, in actuality they sealed the fate of success for N.W.A.. By publicly dubbing the group and their record as forbidden, they had created an interest that prior to their outcry hadn't even existed. Poet Brother Blue spoke of the situation best quipping, "[w]hen the society in which you live scorns you, you become the glorious outlaw" (Perry 102). Straight Outta Compton's sales skyrocketed reaching number 37 on the billboard charts selling over 2 million copies.
N.W.A. expressed the frustration of an entire generation, Tricia Rose cites, "rap's sometimes violent content is a confrontational response to privileged [America]" (Rose 146). It was N.W.A.'s album represented the soundtrack for a new generation's confrontational rise against. Hip-hop legend ?uestlove put it best in an article about N.W.A. titled The Immortals, "[r]ock and roll is more about rebellion than guitars. N.W.A.'s Straight Outta Comptonofficially took that baton away from rock: It's the album that made hip-hop the new rock & roll" (Thompson 83).
Hope you dug that. It was weird looking back to how I wrote back then. But not as weird as Ice Cube abandoning his whole image to make Are We There Yet?
The rest is a works cited. I recommend most of these books and articles for a read.
Anderson, G. "Trustees' rap ban creates board dissension, staff fears." American Libraries 23 (1992): 7
Kitwana, Bakari. Why White Kids Love Hip-Hop. Wankstas, Wiggers, Wannabes and the new reality of race in America. New York: Basic Civitas Books, 2005
McCarroll, Thomas. "Take The Bad Rap." Time.
March. 1993: 11.
McKenzie, Scott. Billboardbiz. 2006. VNU eMedia Inc. Billboard.
Murray, Dave. N.W.A. World. 05/13/2002. Online. The Rap Basement.
N.W.A., Straight Outta Compton, Dr. Dre. Priority Records. February, 1988. Released August 1989. Compact Disc.
Perry, Imani. Prophets Of The Hood. Druham: Duke University Press, 2004
Rose, Tricia. Black Noise Rap Music and Black Culture in Contemporary America. Hanover & London: University Press of New England, 1994
Thompson, Ahmir "?uestlove"."The Immortals." Rollingstone
Oct. 2006: 972.
Wahl, Greg. "I Fought The Law and I Cold One: Hip Hop In The Mainstream".
College Literature 26 (1999) 98-113.