For most of my life I've felt that I was born in the wrong time, like I had missed my decade and have now been forced to cope with the present. It's not terrible, but the fact is my beliefs aren't currently widely accepted in today's world, but would be welcomed warmly say 30-60 years ago. Here is a list of 10 things that I've said in the past week that should better explain what I mean.
"Don't add anything to whiskey or coffee. Those are consumed as is."
"Water's bad for you."
"Doctors are for cowards."
"Cars stopped being cool after 1963."
"We aren't eating enough rare red meat these days."
"Flower children and white guys with dreadlocks need to go away."
"Men should have to go to baseball games in suits. If you don't have a suit you don't get to go. I feel like that would solve a lot of problems at Dodger stadium"
"I wish chicks still vacuumed in cocktail dresses and pearls like Mrs. Cleaver"
"I hate computers."
"Button fly is okay by me."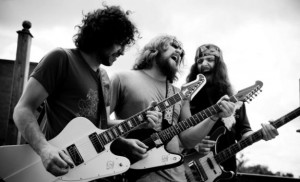 Okay so that last one didn't have much to do with anything, but as you can see, my mindset isn't exactly "of the times". I have this constant desire romanticize the past. Woody Allen's Midnight In Paris was about exactly this. Yearning to go back and live in a time that you will never know, left only to wonder what could have been.  We all know that we can't go back in time, but through music we can go back for a little while. That's why almost of the music on my iPod is of a bygone era. It's my escape. I hear one of the classic tracks on there and I'm transported back to the decades I missed the first time around. So when a new band comes along and has the ability to put me back in time for a few brief moments I take notice. This week's ARTIST OF THE WEEK IS: The Sheepdogs.
Hailing from The Great White North, the band is as follows:
Ewan Currie: Guitar/ Vocals
Leot Hanson: Guitar
Ryan Gullen: Bass
Sam Corbett: Drums
The Sheepdogs formed around 2005 and ever since have been creating feel good rock tunes reminiscent of the Doobie Brothers, CCR, and Canned Heat. Their debut album Trying To Grow features tracks that would have been the perfect backing for the Woodstock Festival back in the day.
Isn't this the type of song you'd expect to hear in a Vietnam movie?
Currently I'm hooked on their 2010 record Learn and Burn. It is a 70's rock record through and through. The instrumentals, the lyrics, everything right down to the cover art has the sweet stink of the 70's all over it. Their harmonies on the track I Don't Know are reminiscent of the Doobie Brothers' classic Black Water. The video for it shows that this band would have been right at home in that era.
Is it wrong that part of me likes this band strictly because the they are Canadian and they don't suck? I racked my brain, and in recent memory the only imported bands from our Canadian brothers that I can remember  have been Avril Lavine, Nickelback, and Sum 41. I did some googling and found this list and began shaking my head in disappointment. What's going on Canada? Why do you keep sending us these…things? Why did you keep quiet on The Sheepdogs for so long? Were you worried that we would sully them with our dirty American hands and ruin the fun vibes that they've been putting out for nearly a decade? You were right to worry. Currently you can hear them in promos for the CBS show Vegas. Wow. That actually didn't take long at all.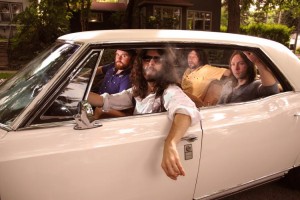 After releasing three independent albums and some seriously heavy touring, they broke into the mainstream in August of 2011 when they won a coveted spot on the cover of Rollingstone magazine, becoming the very first group to do so as an unsigned act. Rollingstone's relevancy may not be what it used to, but I love an underdog story and at the time of their cover appearance The Sheepdogs were exactly that. Since these beautiful bearded bastards made their appearance they played both Bonaroo and SXSW, and started making some very powerful friends. Most notably, The Black Keys.
In 2012 they released their fist album under a label. A self-titled that was largely produced by Black Keys rocker Patrick Carney I don't know about the rest of you but upon reading that Carney was the man working the studio sessions caused me to worry. I had only been listening to their older records in the weeks prior to writing this bit and I held off on listening to the newest album strictly because it was produced by Patrick Carney.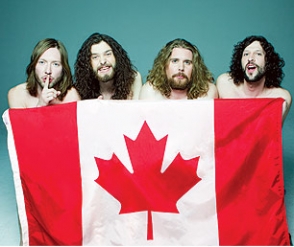 Don't get me wrong, I love the Black Keys, but ever since they paired up with Danger Mouse on Attack and Release they lost their grimy edge. The sound their sound became overproduced and glossy. They lost the rough simplicity of their early records which is not something I wanted to happen with The Sheepdogs.
I wish I could sit here and tell you that their 2012 release was just as good as their older stuff. I wish I could say nothing changed and they had stayed the course of making sweet throwback tracks. But I can't. It's clear Carney had his hands in the mix here. The album has glaring similarities to the Black Keys' El Camino, which is an okay record, but it's not what I want from the Black Keys, just like The Sheepdogs self-titled, isn't what I want to hear from The Sheepdogs. It's polished. They went from being a great flashback band, to being a mediocre modern blues band. Granted the album has a much richer sound, most of that is likely due to a larger budget and a nicer studio, but gone is their twang, gone are the Doobie-esque vocals. What replaces these likeable qualities are simple guitar licks and that same vocal reverb heard on the Keys' new stuff. It's one of those things that I just get over and ignore because I know what they used to be. It's a total bum out. I hate it when this happens. The only real benefit was I wasn't into these guys until a few months ago.  If I had been following them since 2006 I imagine the let down would have been a hell of a lot bigger. Granted there are some decent songs on there like Laid Back.
I don't want to give up on these guys yet. It's their first attempt at making a record with a big label, perhaps they will be able to get back into their old groove. For now, go back into their catalogue on Spotify and give them a listen. It's definitely worth it if you're like me and need to go back in time every now and again. That reminds me, I should probably watch Back To The Future again soon. It's been too long.
Big Hugs,
Kelly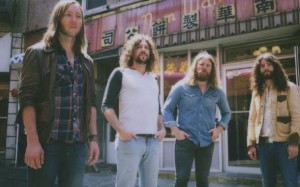 LINKS
http://www.facebook.com/thesheepdogs?ref=ts&fref=ts