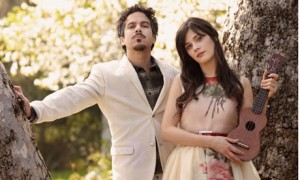 When you're in a relationship, you look to develop shared interests. Music is often a big focus because Lord knows, if you can't jump into the Volkswagon and find some mutually agreeable tunes on the AM/FM dial, then you are in for a world of trouble. In my only long-term relationship, music was tough. Simply put, she was a Beatles lady, and I was really into Method Man. It wasn't until she gave me She & Him's Volume 1 that I really could say I enjoyed any of the stuff she was into. The songs were simple and poppy, but it was the folksy twang of many of their songs that got me hooked. Then last October that relationship ended. It was a bummer man. We had just moved into a brand new apartment and I had finally gotten everything in its place. Looking back, when moving into the new place and my friend Nick looked me in the eye and without hesitation sternly said, "dude, don't do this," I really should have listened. Since then She & Him has always carried some baggage. Despite said baggage, they're this week's Artist Of The Week.
She & Him are the indie darling duo of Zooey Deschanel and M. Ward. Ward a seasoned producer, composer and guitarist, and Zooey a multi talented singer-songwriter, actress, and blogger. Damn she's a busy lady.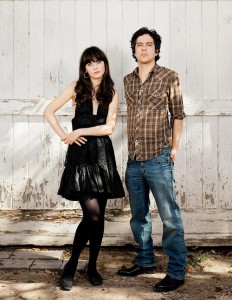 The most frustrating thing about her is that she is beautiful and still super talented at everything she tries her hand at. She could have rested on the looks, but Noooooooo, she had to go out and impress everybody! I would kill a man to have mild success in any one of those fields. Even blogger, and that's really saying something.
She & Him's debut album Volume 1 was released in 2008. The group quickly grew on me. It reminded me of Loretta Lynn with a dash of Ann Margaret. I had been into Neko Case for some time, and She & Him wasn't too far off. Yet where Neko seemed to be distant and lonely on her albums, Zooey brought an uplifting spirit. Making her songs about heartbreak seem…not so heartbreaking. While original tracks, like the carefree Black Hole, or the 60's-ish Sweet Darlin,' are what make the album fun; it's their cover of You Really Got A Hold on Me that convinced me She & Him wasn't just another "celebrity band". It's just Ward and Deschanel's voices over a causally strummed guitar, simple, yet so beautiful. It's also one of the few times we get to actually hear M. Ward's voice. Ward's cool demeanor and earnest voice is perfect the counter balance to Deschanel's quirky/ perky persona. He both looks and sounds like a man whose done some living.
Their second album aptly named Volume Two is more of the same fun tunes this time with a little more production. With the critical success of their first album, heavy touring, and Zooey appearing in more TV and film, there was now a much larger audience for the group, which pushed Volume Two to #6 on the Billboard Chart. The track Don't Look Back is the closest thing to one of those "AM HITS" songs you find on compilation CD's being sold at truck stops, that I've heard in a long time. Think Lollipop by The Chordettes. It's up beat, has great vocals, and of course, Ward's guitar. But again, while much of the album is "smiles and sunshine" the most somber track remains the most memorable. Brand New Shoes is one that makes you stop what you are doing and just listen. That doesn't happen often these days.
She & Him went out on a limb for their third album. Not so much that they were deviating from their musical norm, but they decided to put out a Christmas album titled A Very She & Him Christmas. Usually when any artist does this, the words "cashing" and "in" pop into my brain. But you know what readers? When I heard She & Him were putting out a Christmas record, I was pumped. Jazzed even. Hell, I even knew that I'd be able to buy it at the local Starbucks on my way to work if I wanted to. Cause that exactly the type of shit they would sell next to holiday mugs. Sue me. I like Christmas. Christmas music usually bums me out, so I was glad to hear the lovely voice of Zooey as I stared at the tree this year. Her rendition of the Sinatra classic Christmas Waltz is exceptional.
I love this band. The problem for the longest time though, was every time I heard them I would have these flashbacks to my past girl friend. These were some heavy memories that I didn't really want to dwell on. That was until a few weeks ago. I was doing a little cleaning and I came across that special box we all have. You know the one. The box that holds all those precious physical little objects that remind us our memories actually happened. After sifting through stolen concert posters, a Shrek action figure, and some drunken high school party photos, I found the letters and birthday cards she had given me. Oddly enough, I also found the cards that I had given her. I don't know why I had them. I guess I didn't think she deserved to keep them after I left. I didn't read them. I tore each in half and tossed them into an ever-growing garbage bag. Then, few days later I listened to Volume 2 again. Rather than dwelling on downer memories of the past, I simply enjoyed the shit out of it. Before I knew it I was driving along bopping my head from side to side, and I was singing my fucking face off.
Party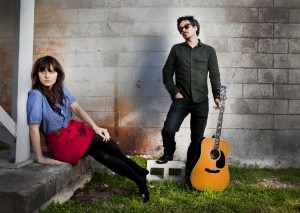 Links
http://www.facebook.com/sheandhim