Misery may love company, but loneliness loves indie rock jams. That's something I discovered in the winter of 2005. In college we had a break around February. To be honest I don't know if this was spring break, or mid winter break or what. When you attend a school where students attend the fewest days of class required to still be considered enrolled, all that time you aren't in school starts to run together. Either way, we had a week off of school and I stayed in town. I didn't want to go to my parent's house because I would have just sat alone at home all day in the back woods of Maryland. I also couldn't afford to go on a vacation of any kind. So I stayed in Boston for what I thought would be a fun filled week of debauchery. Tons of people would be sticking around, right? Wrong. Idiot Kelly. You were so very wrong. Boston may be a major metropolitan city along the Eastern seaboard, but down deep, it's a college town. When school is out, the city goes Omega Man style. There's no one. The population drops to a level when there is actually space to walk on the sidewalks. It's weird.
I was alone in the city. All my friends had left. I honestly didn't know a soul. That is of course for my downstairs neighbor who was a union welder who kept offering to steal me cable from the apartment next door, but that's neither here nor there. I started having that same feeling I had when I moved from Seattle to Indiana in High School. I was surrounded by people, but entirely alone. At the beginning of the week, I spent most of my days hunkered down on a couch watching movies, or circling the block simply to kill time. By Tuesday was so cold, being outside was only tolerable for short periods of time. I even broke my cardinal rule and smoked indoors. That's a big no-no especially when you split a one-bedroom apartment with another dude who doesn't smoke. I knew I had reached new levels of sad when the highlight of my day became the 2 hour block of 8 Simple Rules For Dating My Teenage Daughter reruns that started at 4pm. I'd be out and think, "I better get home so I don't miss 8 Simple Rules." These episodes didn't ever have John Ritter in them so there was actually no redeeming quality whatsoever.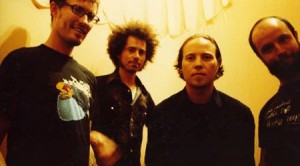 I decided that Wednesday I would ride the trains and read. That particular day I had picked up The Weekly Dig. A local paper that highlighted the hotspots in town that week. I mostly read the Dig for Savage Love, Dan Savage's sex advice column that I had been reading since high school in the Seattle Stranger. If you've never read it before, I suggest checking it out HERE.
That day I went deeper into the Dig than I had before. I generally never read music reviews, but I didn't have anything else to read so I figured "what the hell?" There was one review that made me take notice. I don't know what it was. I tried finding it while writing this but despite my search efforts turned up empty handed. The review was on the band Rogue Wave. I had never heard the name, I had never heard a single note of their music, but I had become infinitely curious about them. For the first time, someone's writing was swaying me to go check out a band. That had never happened before. I got most of my music by friend recommendation. But this was different. I needed to know more. This Week's Artist of the Week: Rogue Wave.
Rogue Wave seems to have been a revolving door of band mates. People do a brief stint and then move on. Currently it consists of these fine gentlemen:
Zach Rogue: Vocals/ Guitar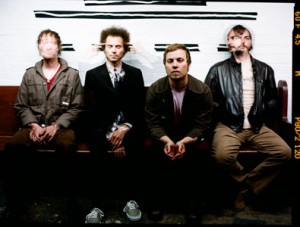 Pat Spurgeon: Drums/ Keys
Dominic East: Guitar
Cameron Jasper: Bass
Rogue Wave has been around for a while at this point. I'm sure many of you have heard of them, but if you haven't that's totally understandable. Their sound, while very good, wasn't exactly unique at the time of their album's release. They flat out sound like The Shins from time to time. That's not a bad thing, but after Natalie Portman declared "the Shins will change you life" in Garden State, most people took that as gospel and sided with The Shins in this indie rock niche…. not that there's anything wrong with that. But after reading about them, I was drawn to them. At the drop of a hat I had gone from never hearing of them and not caring, to needing to hear them. When I got home, I hopped on Limewire (illegal) and downloaded their song Bird On A Wire off of Descended Like Vultures.

There are those moments when you hear something for the first time and you can't help but get caught up in it. This was one of those times.  The instrumentations, the swells, I got sucked in. I was like a junkie from that point on. I became obsessed. I started feinding for my next hit of Rogue Wave. Due to my use of Limewire and my complete inability to use the internet as a research tool, I began meshing their first album (Out Of The Shadows) and the aforementioned second album together. Unbeknownst to me, I was getting a double disc dose, with only really knowing about the existence of one record. I didn't leave my computer for nearly 10 hours. Downloading songs, watching clips, searching for bootlegs. It consumed me. What did I care? Where did I have to be? The answer to those questions are "I didn't" and "nowhere". For the first time in my life I was living without a clock. At first it had been a prison but it had now become a new found paradise, an escape that I had never been able to embrace.
The next day I awoke and updated my iPod mini (I may have just dated myself) with every track I had gotten a hold of. Many of the songs missing their proper titles, but I didn't care. I rode the train again. Even though transients that smelled like a Midwestern Walmart were all around me, I didn't care. I had new friends in my headphones. I'll never forget waiting outside by the D line queuing up the song Kicking The Heart Out. The air was cold and just as the train came into view the song started up and it began to snow.

The week soon ended, I was rejoined with the people I knew and I fell back into my familiar routine. Yet still, Rogue Wave went on playing in my ears. Not since I first heard Kurt Cobain belt out About A Girl had I felt connected to music like this. Be aware, Nirvana had a much bigger impact on my musical taste than Rogue Wave, and I am in no way comparing the two, but I was in the same headspace when I found the both of these bands. I was alone, I didn't feel comfortable in my own skin, and I didn't know what the near future held for me, which was scary. I was afraid. But slowly things were getting better. Much like after I found Nirvana, things had gotten better. Sure a lot of factors played into me getting out of those depressive states, and I'm not saying the music was everything to do with it, but it was definitely nice to have.
I ended up seeing them live a year later. It was a great show in a small basement club. I even got to meet the band. In years before I probably would have expected some monumental movie style moment from these guys where I tell them my story, we become pals, and they take me out for a beer. Luckily part of me not being so depressed, was I got my expectations to a more realistic level. I just politely said hello and to have a good show. I then watched a 40 year old man standing next to one of the amps dance his face off to every song. It was great. After that show I fell out of touch with Rogue Wave. I didn't listen as often. Didn't check up online. They released At Heaven's Gates in 2007 and while every critic and fan of theirs hailed it as their best record to date, there was something about it that didn't feel right to me. It didn't feel like the band that I had come to know. The single Lake Michigan was a huge indie hit, yet I didn't get on board until recently.

They even had another release, Permalight, in 2009. I was completely unaware its existence up until last week. I'll tell you now, it's pretty darn good, but it will never get better than those first two albums for me. The video for the single off of that album reminds of the entire decade of the 90's. I miss the 90's. Hip hop was good. Bill Clinton was president. I could do the 90's again.
Recently I took a trip up to Seattle. I had needed to get out of Los Angeles. Seattle was the perfect getaway. The weather was cool, I ate good food, and saw some of my favorite people. It was on the drive back to the Airport that I got that sinking feeling, a feeling that I know too well. I was going back to a city that I had grown to loathe, to work a job that I have to turn my brain off to simply tolerate. I reluctantly boarded my flight and sat in the seat. I was going back to a city where I would be surrounded by people, and still feel alone. At that point there was only one band I could think to put on and I haven't stopped listening since. It's good to hear you again Rogue Wave. I've missed you.

Big hugs,
Kelly
LINKS
http://www.roguewavemusic.com/
http://www.facebook.com/roguewave