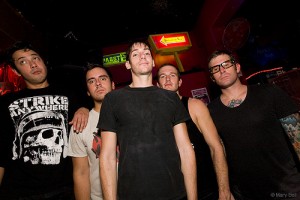 Now that things are warming up outside, viagra 100mg england so is our music.  This week we've got a punk band that has been rising in the ranks for a few years now.  Bringing listeners intense and care-free skate-punk, our artist is a band that deserves more recognition than they've gotten.  Fortunately for everyone, we here at Enter the Shell (dot com) are here to spread the word.  Ladies and gents, we bring you Riverboat Gamblers as your artist of the week.
Riverboat Gamblers started as Pat Lillard, Fadi el-Assad, and Mike Wiebe in the university town of Denton, Texas.  Formed in the late 90's, the Gamblers were a staple of the University of North Texas community for several years until their 2001 single, "Jenna (Is A No Show)," put them on the path to skate-punk success.  Two thousand three saw the band make a break-out performance at South by Southwest, garnering attention from multiple interested parties.  While courted by several major-labels, Riverboat Gamblers went the direction of Gearhead Records, pushing away the temptations that major record companies offer (which the Gamblers sing about in "The Biz Loves Sluts").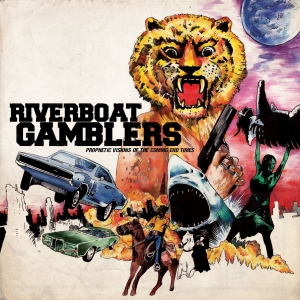 Fast, fun, and not overbearing in their delivery of a message, Riverboat Gamblers manage to come out as a force to be reckoned with in the skate-punk realm.  Their songs about drinking, the state of the commercial music business, all things fun, and (of course) gambling, make them accessible and likable by any who enjoy catchy punk anthems that you can easily pick up and sing along to.  What makes Riverboat Gamblers even more appealing is the fact that they don't take themselves seriously.  While we can all appreciate songs trying to change the world or bring light to an important cause, Riverboat Gamblers remember that sometimes you just need to cut loose, have fun, and dance like an idiot.
The Gamblers moved from Gearhead Records to Volcom Entertainment in 2005 and have remained their ever since.  Though the band has gone through several lineup changes, Wiebe (AKA Teko) on vocals, and el-Assad (AKA Freddy Castro) on guitar have remained the only original members of the band.  Their 2009 release, Underneath the Owl saw more of Riverboat Gamblers delivering the high-energy punk that they are known for, but with a more mature sound, and their 2011 EP Smash/Grab continues in that trend.
The Riverboat Gamblers recently finished two shows at the ever-popular (and important) South by Southwest.  They're set to have their next album, 2012: Soundtrack to the End of the World (though I'm not certain that's the official title), released sometime this year.  With six albums under their belts, their most recent EP released last year, their album on the way, shows with the likes of Flogging Molly, Rise Against, and Rancid, not to mention their music featured in a number of various video games, you can bet that the Gamblers will be keeping their music constantly rocking, the fists never-endingly pumping, and this blogger enthusiastically listening.  Get your fix below and enjoy!
Useful Links