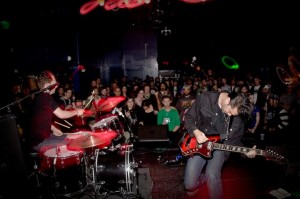 There's something to be said about stumbling upon a new artist. Often we seek them out, searching for something new and different. There is some sort effort put into arriving on this new sound. Be it buying magazines, having a friend make you a mix tape, or you simply get a recommendation. Not this time. A few weeks back some friends and I were at a small venue called the Bootleg, located a few miles outside of downtown Los Angeles. While hanging out before the show, the house PA system played tunes off of someone's laptop, just to have something in the background. It was during that time I first heard Hanni El Khatib's single Dead Wrong.
I was overjoyed. I thought The Cold War Kids had finally put out a song that had me interested in buying their albums again. I pulled out my trusty Shazam app to confirm the name of the new album, but Shazam kept telling me that this wasn't the Cold War Kids, but was in fact Khatib. At first I refused to accept this. You see; I'm stubborn from time to time. I had confidence that I knew better than this credit card sized super computer. After all, I did attend a liberal arts college. But after holding the phone up to the speaker 6 times like a dumb ass, it finally occurred to me that perhaps this was in fact a different artist. I'd never heard of the Hanni El Khatib, but Dead Wrong had peaked my interest. The sound was fast paced, soulful, and fun. That night I went home and downloaded his debut Will The Guns Come Out.

The album is a mix of soul, garage rock, and R&B. Khatib, the former Creative Director of HUF, took it upon him self to create an album that satisfies the demands of fans of punk and blues. Not the easiest of feats. The title track Will The Guns Come Out, features distorted vocals, and a simple combo of clapping and piano. Meanwhile track Fuck It You Win, is a drugging garage rock anthem, with shrill vocals and powerful bursts of drudging guitar. The album's original content is great, danceable even. However, as a huge Elvis fan I can't help but get excited about Khatib's ability to cover the King. His rendition of Heartbreak Hotel is a slow, haunting track that resembles the gypsy punk sound often heard on Gogol Bordello albums.

The album is 11 tracks, all of them very different from one another. Some might find it difficult to get through an album that seems to lacks a specific personality throughout. But I dig it. My attention span is shorter than most so, often times I tire of a certain theme. I like mixing it up. I can't recommend Khatib enough. He's made a really sweet summer jam album, perfect to have in the car when cruising. I learned a valuable lesson in finding Khatib, that being I am not as smart as my iphone. Granted that is something I should have learned long before. Buy Will The Guns Come Out, you aren't going to regret it. And to think I almost got back into the Cold War Kids game. Hey Cold War Kids, stop it with the whole "progressive sound" thing. Go back to playing out of tune pianos and singing about street fights. Be more like Hanni El Khatib.
Useful Links