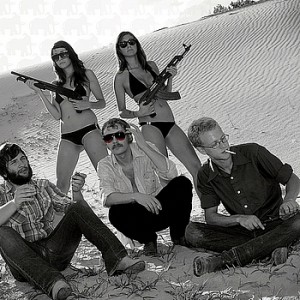 I first listened to the band Deer Tick three years ago. Some call them country. Some say they're folk. Their newest album even has people spreading rumors that they may in fact be an actual rock band. In this man's opinion, they don't fall under a singular genre, so I just call them a great band. Their four albums and handful of EP's became the soundtrack to last three years of my life. Upon my first listen of each of them, I got that tingly feeling when you find some music that's special to you. I'd only had that feeling twice before. The first was when I was ten years old and I discovered Nirvana's Smells Like Teen Spirit. My mind was blown; probably a poor choice of words when referencing Cobain but whatever. The second occurred in Junior High when I got a burned copy of Notorious B.I.G.'s Ready to Die. After the first listen through, I wanted to be black. I'm talking Wesley Snipes black. It would've been rad. Everyone would've assumed I could rap, and they would have to stop ridiculing me for loving Method Man so much. But I digress, back to Deer Tick.
The band currently consists of these guys. Although there have been changes over the years, I feel these are the men that matter.
John McCauley – guitar, vocals
Ian O'Neil – guitar, vocals
Chris Ryan – bass, vocals
Rob Crowell – keys, saxophone, vocals
Dennis Ryan – drums, vocals
Did you notice something up there? Vocals. They've all got pipes. This is one thing that makes Deer Tick a special band. EVERYONE can sing. It's not a just a singular weak falsetto, bumped to a quasi-acceptable level by reverb and a producer. It's five guys, all with the ability to belt it out. When was the last time you heard a modern band put together a five part harmony? If you're read that last sentence and thought, "One-Direction does five part harmonies," then I think you should excuse yourself from this blog page, and get back to creating your casual encounters M4Teen craigslist ad.

Their first album War Elephant was released in 2008. The album overall is mellow and folksy. John McCauley's cigarette tainted voice seems to almost yodel out over most of the record. For me the album doesn't really hit its' stride until a three song set that I contest to be some of Deer Tick's best stuff; Baltimore Blues No. 1, Old Shoes, and Not So Dense, a powerful trio of songs about a weighty conscience, chasing down love, and anger. There's a moment in Not So Dense where McCauley lets out a screaming shriek that is unheard on the other tracks. These three songs show you the range that that Deer Tick has musically, each track showing a different side of the band. Their current live set still contains all three of them, and they're crowd favorites. Rock clubs turn into big 1,500 person sing-alongs after only the first few notes of any of those songs.
The two follow up albums after War Elephant were Born On Flag Day and The Black Dirt Sessions. Both are strong folk records. It's hard for me to talk about these albums. They were in heavy rotation during some seriously shitty years of my existence. That sounds over dramatic, but it it's not. Family members died, relationships fell apart, homelessness occurred; all in three short years. Sure there are upper tacks. Hell, Easy off of BOFD is probably one of their most popular tracks, it's really a fun ass song. But I'm not talking about those tracks here. The dark stuff hits with me on these records. They say misery loves company. If that's the case, then these records are my drinking buddies. The tracks Smith Hill and Goodbye, Dear Friend still get me every time. Listen to them. If you don't feel even slightly emotionally stirred, then I say you're dead inside. I just listened to them back to back as I am writing this, and sure enough my eyes aren't as dry as they used to be.
This brings me to their latest album, Divine Providence. It's the culmination of all of their past work. It takes their county, folky twang, and adds more classic rock guitar vibe. The album's first three tracks, The Bump, Funny Word, and Let's All Go To The Bar, are some of the most straight forward, kick ass rock songs that they've ever recorded. Oh, and remember when I mentioned before how every band member could sing? Well on this record you get songs featuring solo vocals from both drummer Dennis Ryan on Clownin Around, and lead guitarist Ian O'Neil on Walkin' Out That Door. McCauly is again on point with his lyrics and trademark nasally rasp.

I love this band. I really do. I hope you guy's get out there and pick up and least one of their albums. Hopefully it hooks the same way it hooked me. Maybe you can get one of those tingly moments we're all looking for.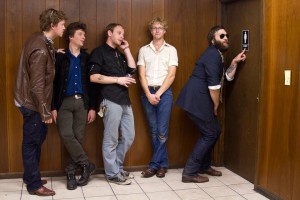 Useful Links