In this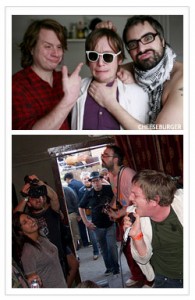 world gone mad with auto tune and digital filler, one must turn to a band that kicks faces with the basics. That is why this Artist of the Week honors go to Cheeseburger, a bar band of 30 somethings out of Brooklyn, New York, who have found the sweet spot of punk rock sound, and is ride it ten beers deep into the streets of Williamsburg, aiming to party till they puke.
Starting out as a trio in 2005 with the EP Gangs All Here, a six track sampling that features two and a half minute bursts of noise, feedback, and Joe Bradley wailing about tossing a few back at the Green Point Tavern with his pals while listening to ABBA's Dancing Queen. This quickie EP gives you a real sense for what these fellas are all about; drinking, partying, and not really giving a fuck about you or anyone else within earshot of whatever venue they happen to grace with their presence.
Their self titled debut full length dropped in 2007. The trio was now a sextet and the sound had grown immensely, while still sticking to their garage punk roots. The band had now taken on a Stooges/ ACDC vibe, and they owned it. Most of the tracks that had appeared on the EP (Gangs All Here, Easy Streets, Cocaine) show up again on the album, but had morphed into a full on assault on your eardrums, especially with Gangs All Here. The sound was so much more bombastic.
While there's a lot to be said about the instrumental play, we have yet to touch on their lyrics. Simple? Yeah. Juvenile? Sure. Rad? Of course they're rad. If they weren't, I wouldn't have brought them up. At the core, each song sets the scene of an unglamorous, sweaty, cigarette smelling rager that you hear about the next day and think, "I shoulda been there man". The most memorable track for me has to be Melissa Brown, a rocking tribute to a past lay that seemed to haunt the narrator for years. Who doesn't have one of those?

Prior to their second release, lead guitarist Christy Karacas had found success on adult swim as the creator of the show, Superjail!, for which Cheeseburger created the theme song I'm Comin' Home. They had also replaced lead singer Joe Bradley with Jayson Green. Much like AC/DC, Cheeseburger found a man that was a near exact match to Bradley's vocal styling. Jayson added a new element to the live shows as well. While the rest of the band thrashes about, Green struts the stage with bravado, like a rotund, mustachioed, Mick Jagger. It's a better strut too. As a Stones fan I have no problem admitting that. Specifically because when Green struts, it doesn't make you think, "grand dad should sit down before he breaks his hip".

Another Big Night Down The Drain carries over the same big rock sound of the debut, but it's more fine-tuned. The songs have less anger, catchier hooks, and carry an all around vibe that wherever they're being played becomes the most fun spot in town. Tracks like Party Song and Big Night pack a wallop that you just haven't heard in mainstream rock for years. The lyrics, again, are fun as hell, as Jayson sings of partying with under aged chicks that are dressed to kill, hitting home runs, and just generally being awesome. What's not fun about that?

If you live in the New York City area, lucky you. Live shows are few and far between, but when they do play live it's usually in one of the boroughs with very little prior notice. If you have the chance, go. It's gonna be a good time. If you meet a nice guy or gal at this show, marry them. Strictly because if hey are into this shit, then they know how to party and are probably dynamo in the sack.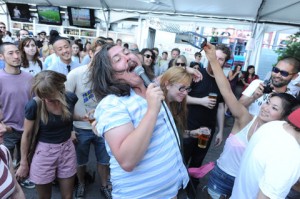 Useful Links