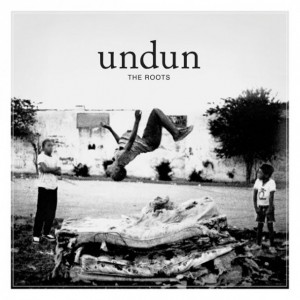 The Roots put a fun, compelling, and gritty story of a man together in "undun," a concept album about a hustler, Redford Stevens, written in reverse, from death to birth. The tale of the gangster makes stops along the way on important times of his life. It's a mixture of many different musical styling; great beats, rhythms, guitars, and classical piano work, it makes an album that is laid back, beautiful, and real.
Despite the various guests on the album, who add to and speak for Redford Stevens' life, (including Phonte, Dice Raw, Bilal Oliver, Truck North, Big K.R.I.T, Greg Porn…among a handful of others) the concept is lost on me. The main concern is that it isn't the most obvious concept, and just seems like a normal album to me (no story to it). Perhaps I need to brush up on my Roots albums.
The album is spectacular, sliding between genres and styles, from the chill and jazzy "Sleep" to the funky "Kool On" and the gritty beat-pounding and soulful, "the OtherSide". The record ends with a three-part instrumental that lets ?uestlove beat the shit out of his drum set. Overall, the album is amazing, a true musical masterpiece. Had I listened to this a few weeks earlier, it might have ended up on my top 10 list for 2011.
Stuff you may enjoy:
________________________
ETS TV – Turrtle Interviews Sons Of Anarchy
Album Review – AWOLNATION – Megalithic Symphony
Free Song Download – MUTINY MUTINY Offers "The Damage is Done"
The Digg – Thanksgiving Special!
The Playlist – Red Wanting Blue Playlist