So Cal seven-piece 40 Watt Hype roll out the positive vibes on their debut Push. Pulsing with Latin rhythms, soulful rhymes and enough feel-good energy to get the nation through the darkest times, 40 Watt Hype is the musical cure to world's ailments.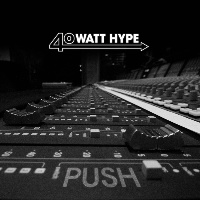 Push is equal parts Ozomatli and The Roots baked under the California sun and destined to bump out of a '64 Impala.  Front man Aaron Wall channels a rhyming Marvin Gaye in English and Spanish while tunes that support him are funky, fresh and addictive.
The hook laden tracks cover the topics of faith ("The Messenger"), young love ("Wannabe"), neighborhood pride ("The 99") and inner strength ("Only the Strong Survive," "Gotta Get Up").  The best part about Push is there's never a sense of pretentiousness or preaching.  The album is readily approachable and never passes judgment on your musical taste.   Truly anyone can get behind what 40 Watt Hype is pushing (pun intended) and be proud to do so.
For fans of the aforementioned acts, Common, Slightly Stoopid, Flobots (not for the novelty) or Junkyard Empire, 40 Watt Hype is your new go to band.  We can use some of the group's optimism and Push couldn't have arrived at a more necessary time.
Buy 40 Watt Hype's "Push" at our record store.
If you liked this, then you'll love: