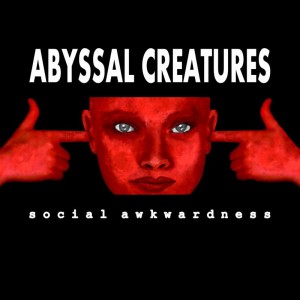 I'm not going to lie; I wasn't looking forward to listening to this album again to write this review.
But, for the sake of you—the faithful readers—I muscled through it.
Abyssal Creatures, the "music" project of Ian Fellerman, has crafted 16 tracks of clumsy, self-deprecating, noise in the form of Social Awkwardness—the band's latest LP.  Upon my initial listen I found it impossible to escape the inane, nasal vocal; clumsy arrangements; repetitive guitar fuzz and over-arching irritation.  The press kit for Social Awkwardness detailed how hard Fellerman worked on this album and how deep he looked into himself for the lyrical content.  Though I respect his effort, I fail to see the value in it as the final product resembles more of a mess than an album.
Perhaps the artistic, avant-garde music fans out there will salivate all over this album—and good for them.  I, on the other hand, felt as if I was being musically punished while spinning this disc.  Maybe it's my karmic retribution for hating on hipsters, but I doubt it.
Also, I apologise for my whining at the start of this piece—Fellerman's insistence in wallowing in self-pity got to me.
If you liked this, then you'll love: